Dear Trader,
The polls have closed and election night is upon us. There are 650 seats in the House of Commons up for grabs, meaning the winning party needs 326 to claim a majority.
In light of this event, we wish to caution clients concerning increased risk of volatility, with the potential for market gaps at the open (08:00 AEDT Monday, December 16th / 21:00 GMT Sunday, December 15th).
In recent hours, the pound surged to highs of 1.3514 vs. the greenback as UK election exit polls show Conservatives are set to win 368 seats, Labour 191, Lib Dems 13, SNP 55, Brexit Party 0, Greens 1. Price action currently holds south of the 1.35 handle, though with additional volatility possible, further movement is likely.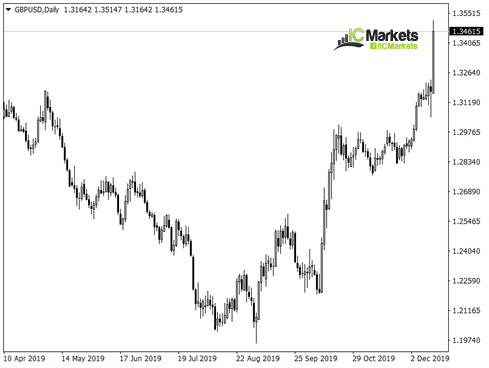 What should you do? 
IC Markets urges its clients to take precautionary measures in relation to the UK Parliamentary Election.
This includes:
Assessing and reducing risk exposure.
Setting strict stop-loss levels, particularly on GBP and EUR-related positions.
Furthermore, additional funding may protect any open positions being affected (for example, margin calls) from large adverse movements in the market.
We will carefully monitor market conditions, and should there be any further changes, we will contact you via email, the trading platform, or post any changes on our website.
If you have any questions or require any assistance, please contact one of our support team via Live Chat , email: support@icmarkets.com , or phone +61 (0)2 8014 4280.
Kind regards,
IC Markets.