In terms of sheer size, the forex market is by far, the largest animal in the financial jungle. It boasts unparalleled features that clearly set it apart from other financial markets. The great thing about this is that it offers a plethora of advantages to both new traders just beginning their career, and more experienced hands looking to switch markets.
Trading volume

The forex market, according to the 2016 Triennial Central Bank Survey of FX and over-the-counter (OTC) derivatives markets, has a jaw-dropping daily turnover of $5.1 trillion. The US dollar continues to remain the dominant vehicle currency.
The New York Stock Exchange, or NYSE for short, is the largest equities exchange based on total market capitalisation of its listed securities, and has a daily turnover of around $40 billion.
According to SIMFA (Securities Industry and Financial Markets Associations), the average daily trading volume for US government treasury bonds is around $530 billion. While the US has the largest bond market in the world, followed by Japan, it does not even scratch the surface when placed next to forex.
Although the above is very impressive, what does it mean to us as individual speculators? Well, trading a highly liquid market, such as forex, enables participants to receive quick trade execution. Furthermore, it limits the amount of trading gaps which can make a market considerably difficult to trade!
Trading hours

Forex is a globally decentralized marketplace, which simply means that there's no central exchange or physical location. It Operates around the clock five days a week, with the action beginning in Wellington, New Zealand and closing on Friday evening in New York, essentially allowing one to pick and choose when to trade.
Similar to the forex market, trading bonds in the secondary market also trades over the counter ('OTC' – another word for off-exchange trading) 22 hours a day five days a week.
NYSE is an exchange-traded market with set trading hours from 9.30am to 4pm Eastern Time.
Forex is clearly the more flexible market to trade!
Costs/Commissions

In the forex market, one has no data licences to pay for. The cost to trade is usually a spread and a small commission. Forex spreads charged by your broker are usually very transparent.

The above image shows IC Market's spread for the USD/JPY pair. The price to sell this unit is: 113.178. The price to buy on the other hand is: 113.181. Therefore, to calculate the spread at this price we simply subtract 113.181 by 113.178 to get our spread which is .3 pips, also known as: 3 pipettes.
IC Market's commission, however, is calculated using what's known as a 'relative fee'. Quite simply, the amount a trader is charged is based on trade size. Using IC Market's commission table below, we can see that a 100k unit position, or 1 standard lot, has a $7 round turn fee.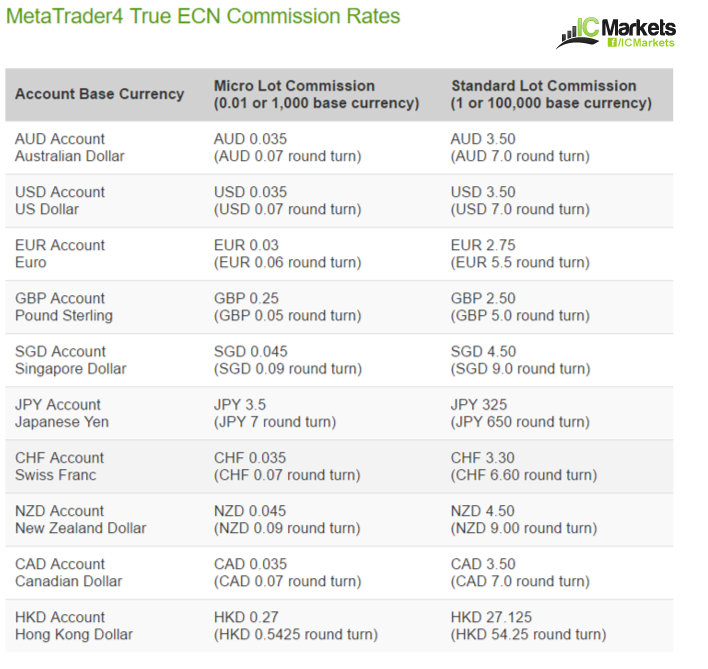 Trading in the futures market is another story altogether. By and large, there are four main fees associated with this market:
Exchange/clearing fees: are debited from one's account in return for providing market access.
NFA Fee: is the smallest of all the four fees. The NFA is a self-regulatory body of the derivatives industry. The NFA requires a fee of $.01 per side of every exchange-based futures contract traded.
Data Fee: is a flat fee taken from the trader by the exchange associated with the streaming of real-time market data.
Brokerage commissions: In a similar fashion to forex, market participants are required to open a brokerage account in order to trade. As the majority of the trades are transacted on margin, futures brokers also charge commissions.
Minimum capital requirement

This is an interesting topic:
For traders in the forex market one can start with an incredibly low amount of capital. For example, with IC markets, you can open an account and trade live markets with as little as $200. Open a Live Account.
Trading in the futures market requires a little more capital. You must have enough funds in the account to cover the slightly larger margin requirements. Margin rates obviously vary depending on which broker one chooses. There is no legal minimum on what balance you must maintain in order to day trade futures, although you must have enough in the account to cover all day trading margins and fluctuations which result from your positions. The E-Mini S&P 500 futures contract is said to have one of the lowest margin requirements at around $500. However, one would of course require a little more than this to allow room for price fluctuations.
Based on US law as stated by the US Securities Exchange Commission (SEC), to day trade equites in the US, $25,000 is the minimal cash requirement. That is quite a difference compared to forex!!!
In closing

Although the forex market is decentralised, the benefits clearly outweigh the negatives here:
One can start participating in the forex market with as little as $200.
Traders are able to buy and sell with ease and little restriction.
Spreads and commissions are extremely tight nowadays, thus allowing traders to trade at minimal cost.
While having 1000s of stocks to sift through may be fun at the beginning, this is likely to become a bore. Trading forex eliminates this problem with only a few major markets to analyse each day.
Market hours in forex essentially permits one to pick and choose when to trade.
High liquidity allows traders to enter and exit the markets with little price slippage.