Overnight Developments
China construction firm warns of possible landmark bond default
Aust: NAB Q2 Business Confidence 6 vs 7 prior
Hollande backs Juncker plan to avoid EU expansion for 5 years
Citi revises China GDP to 7.5% from 7.3%
US and EU to impose new sanction on Russia
Putin: Need to see details of US sanctions to figure out what they mean / Russia wants Ukraine conflict to end / All Ukraine problems should be resolved by talks / Both sides must stop fighting immediately
NZ: ANZ June Job Ads rise 5.7% from down 4.8% in May
The Nikkei  is currently up +0,07% at 15,390, the Hang Seng is down -0,20% at 23,476, the ASX is up +0,45%% at 5,544 and the Shanghai Composite is down 0,81% at 2,050.
Gold is up +0,40% at 1305,  Silver is up +0,56% at 20,888, Crude is up +0,26% at 101,47
The  US 10YR is down -0,80% at 2,518.
FX Update
AUDUSD was weighed down by AUDJPY supply, slight risk off was the theme on a possible China default, Aussie dropped from 9372 to 9353. Stops touted at 9330 with bids at 9300 and large bids at 9285. Topside stops commence at 9375 with offers at 9390 and stops 9410.
USDJPY eased from 101.70 to 101.51 on cross related flow, predominantly
NZDJPY, option expiry's around 101.50 proving supportive. Options expiring today to contain price along with the lack of data: 101.9($805M in Calls), 101.5($190M in Puts), & 101.25($250M in Puts). Stops touted at 101.85 with offers at 102.00 and stops 102.25. Small sell stops at 101.60 with bids at 101.30 and 100.90.
NZDUSD ground lower from 8720 to 8687, flows were said to be cross driven, the market now is hedging bets on the pace of future rate hikes, following yesterday's weak dairy auctions and CPI data. Large bids present at 8655/65 with stops at 8635. Small offers present at 8750 with stops at 8845 and large offers at 8850
EURUSD was non-performer on the session, ranging between 1.3523/34 as the market awaits key CPI data from Europe.  Large Put option strikes worth $1.7B each at 1.3525/30 & 1.3500 remain this week along with 1.3500 binary option barrier.
GBPUSD slept during the asian session. 1.7140 +/- a couple of pips was all it could do. Stops seen at 1.7150 wiht Offers/Stops at 1.7165/90 and Large offers with a DNT at 1.7195/1.7200. Bids commence at 1.7100 with more at 1.7090 and stops 1.7065.
Data on Tap today   (all times GMT)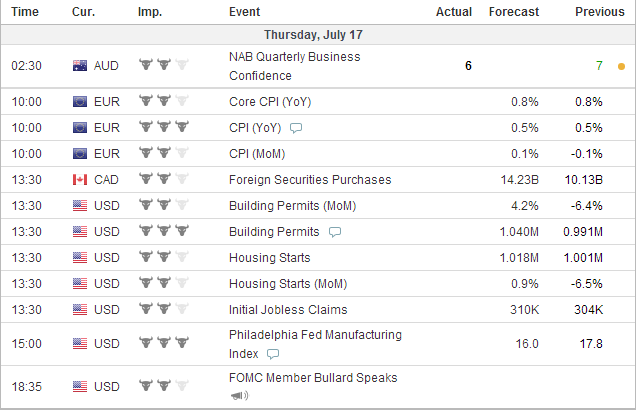 Good Luck today.