Overnight Developments   
 China Q2 GDP 7.5% vs 7.4% expected
 China June Industrial Production 9.2% vs 9.0% expected
 China June Retail Sales 12.4% vs 12.5% expected
 Fed's George: Waiting too long to raise rates could pose risks to the economy / Strengthening economy means interest rates should increase relatively soon / Labour markets show promising improvements with shortages in some skills
 NZ Q2 CPI 1.6% y/y vs 1.8% expected, q/q 0.3% from 0.4% forecast.
The Nikkei  is currently flat at 15,395, the Hang Seng is up 0,05% at 23,472, the ASX is up +0,05% at 5,514 and the Shanghai Composite is up +0,07% at 2,072.
Gold is down -0,03% at 1296,  Silver is down -0,58% at 20,767, Crude is up +0,42% at 100,38
The  US 10YR is down -0,48% at 2,538.
FX Update
Some movement this morning. Finally.
NZDUSD has taken a beating. First was the New Zealand Q2 inflation, which came out softer than expected and sent "the bird" to 8723 from 8765. AudNzd rallied over 50 pips to 1.0743. Combined with yesterday's weak Dairy Price Auction, should the RBNZ really think about another tightening next week?  With monetary conditions too tight and terms of trade weakening, the Nzd should really be lower.  Small offers reside at 8835 with stops at 8845 and short term tech/intraday accounts are looking to sell near 8750-55. Large bids at 8700 are being tested at the moment, with stops at 8695 and bids again down at 8650.
AUDUSD opened at 9370 and traded within a narrow 9355/75 range ahead of the China data. Although most releases were slightly better, the Aussie rose from 9361 to 9371 and then reversed lower; the leveraged community was caught long and continued sell, stops below last night's low of 9348 were triggered, sending the antipodean to a session low of 9335. 9322  continues to be the key support level, 61.8% fib and previous low, stop cited below 9320. Bids present at 9300/05 and stops at 9295. Topside there are stops at 9410 with offers at 9420/30 and stops 9445. It was a surprising move on the Aussie given the better China data, maybe the market was spooked by Yellen, regional currencies were mostly softer against the US dollar on the day.
USDCAD ran into offers above 1.0765 and several banks have better selling above 1.0780. Today Bank of Canada meets and rates should stay unchanged at 1%, as BOC already showed in the last meeting how they intend to avoid sounding hawkish despite the evident run-up in inflation.  The inability to use the low starting point for core CPI as the reason for citing "downside risks" to inflation, they have simply replaced it with risks to growth that, in turn, could down the road put downward pressure on inflation. Small stops are seen at 1.0770 with more at 1.0810 and large at 1.0835. Below, stops are present at 1.0740 and 1.0705 with bids at 1.0700.
EURUSD is challenging yesterday's lows/3562 even after EurAud and EurNzd crosses were lifted by speculative names; Euro encountered offers above 1.3570. Decent sellers starting up at 1.3590  with stops at 1.3630. More offers at 1.3640. Macro bids present at 1.3540 with small stops at 1.3535 and strong bids at 1.3500.
GBPUSD is flat as a pancake after rejecting recent highs during yesterday's NY session.
Data on Tap today   (all times GMT) :
Busy day today: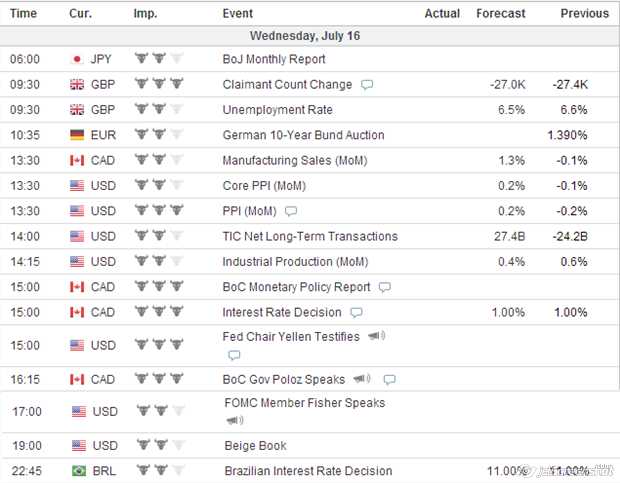 Good Luck today.