Overnight Developments
Australia: ANZ weekly consumer sentiment rises 3.4% to 108.7
RBA Minutes:
A$ high by historical standards given falls in commodities, board noted NZD and CAD were high, most surprised by low level of USD
Labour cost subdued, productivity had improved across the economy
Difficult to judge if low rates enough to off-set mining investment
Further substantial falls in mining investment expected, public demand to be weak
Economic growth seen a little below trend
Strong growth in home building expected
Inflation within ranges
China June Foreign Direct Investment increased 0.20% y/y to US$ 14.4 billion
China June New Loans 1.08 trillion yuan, vs 955 billion expected
BOJ unchanged as expected
Pledges to keep monetary base at annual pace of 60-70 trillion yen
CPI forecast for 2014/15 unchanged at 1.3%, 2015/16 1.9%, 2016/17 1.3%, excluding effects of sales tax hike in April
GDP 1.0% 2014/15 from 1.1% projected in April, 2015/16 1.5% 2016/17 +1.3% both unchanged
The Nikkei is currently up +0,71% at 15,400, the Hang Seng is up0,43% at 23,448, the ASX is down –0,23% at 5,498 and the Shanghai Composite is flat at 2,067.
Gold is up +0,15% at 1308, Silver is up 0,21% at 20,958, Crude is flat at 100,93
The US 10YR is down -0,37% at 2,540.

FX Update
 AUDUSD has opened at 9394, unchanged from yesterday's close in Asia, the off-shore markets had a narrow 9380/9403 range. We rose from 9384 to 9402 post RBA. The minutes seem to be a duplicate of the June minutes which were seen as dovish, hence the small move higher. Support is seen at 9359, 76.4% fib on the 9329/9457 rise, resistance seen at 9409, 50% fib on the 9457/9361 fall. Local importer supply is cited between 9410/20 with stops at 9445. Exporter interest to buy is between 9355/65 with stops just below.
 USDJPY opened for business at 101.54, overseas markets were a dull affair with a 101.46/101.62 range. Japanese corporate demand is cited between 101.35/45, importer supply is between 101.60/70. Resistance seen at 101.67, 50% fibo on the 102.27/101.07 fall, 10 DMA is at 101.68, 21 DMA at 101.75 and 55 DMA at 101.90
 USDCAD opened at 1.0708 and rose to 1.0725. Decent corporate selling interest remains in place between 1.0750/60 and stops have been placed above 1.0765. Resistance seen 1.0751. 38.2% fibo on the 1.0961 / 1.0621 fall, 50% fibo on the same move is at 1.0791 and the 200DMA is at 1.0813. Support is seen at 1.0699, 38.2% fibo on the 1.0621/1.0747 rise, 1.0684 is the 50% fibo on the same move. Bank of Canada rate decision is on Wednesday, given the weak labour data, BOC's should maintain their easing bias, the buy stops above 1.0765 still look to be in danger.
 EURUSD had another luck luster performance, trading in a narrow 1.3613/27 range, hemmed in by option accounts.
 GBPUSD opened 1.7083 and has consolidated yesterday's drop chopping around between 1.7076 and 1.7090. Stops are seen at 1.7140 with offers at 1.7150/55 and larger offers at 1.7180/7200. Sell stops seen at 1.7065 wiht bids at 1.7010/25/30.
Data on Tap today (all times GMT)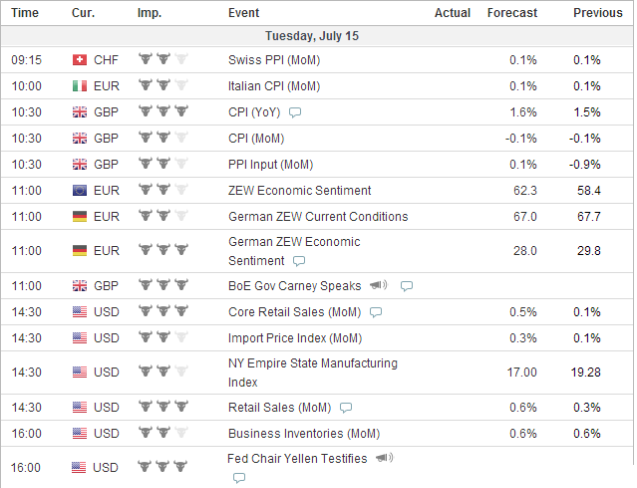 Good Luck today.