Overnight Developments 
China Trade Balance USD31.6 bln from USD 36.95 bln expected, Exports 7.2% vs 10.4% exp, imports 5.5% vs 6.0% exp
Australian employment change 15.9 K vs 12.0 K expected, Full-time -3.8 K (+22.0 K prior) part time 19.7 K (-22.0 K)
S. Korea cuts 2014 growth forecast to 3.8% from 4.0%
S. Korea leaves rates unchanged at 2.5% as expected
S. Korea imports fell 8.8% y/y, fastest pace in 13 months, exports down 10.6% y/y, steepest fall since 2010
US's Lew: US welcomes foreign direct investment
Fed's Bullard: Unemployment drop will propel inflation above 2.0% / Unemployment could drop below 6.0% in the next two reports / Fed likely to raise rates sooner than investors expect
Japan Machinery orders fall 19.5% m/m
UK RICS House Price Balance +53 in June from +56 prior
NZ Business PMI for June 53.3 vs 52.7 prior
Asian equities mixed
The Nikkei is currently down -0,21% at 15,270, the Hang Seng is up +0,18% at 23,217, the Asx is also up 0,14% at 5,460 and the Shanghai Composite is up 0,21% at 2,043.
Gold is up +0,44% at 1330, Silver is up 0,76% at 21,228, Crude is down -0,47% at 101,81
The US 10YR is up +0,28% at 2,552.
FX Update
AUDUSD opened at 9414 and traded within a narrow 9407/9432 ahead of local data, the Aussie spiked into the large offers at 9457 on the headline number that 15,900 job were created,but on closer inspection of the data, full-time employment had dropped and the unemployment rate rose to 6.0% from 5.9% previously. The Aussie crashed to 9414, and the release of weaker China Trade data put further pressure on the pair, falling to 9397, trading then centered between 9400/08. Support seen at 9393 50% fib on the 9329/9457 rise, with small stops just below. Bids commence at 9360 with large stops at 9330.
Other currencies barely moved on the session. Traders are probably sleepy after staying up to watch Holland vs. Argentina – won by Argentina during the penalty shots.
EURUSD consolidated between 1.3640/50 with ACB offers in the 3660/70 zone and stops at 3680; sell stops seen at 3605 with bids at 3590 and macro bids at 3585.
USDJPY ranged 101.50/101.66, with stops at 101.85, offers at 102 with stops and more offers at 102.30/40. Bids at 101.45/50 with stops/bids in the 101.30/40 area.
GBPUSD spent the session mostly trading in the 1.7150's. Stops are at 1.7180 with offers at 1.7190 and larger offers at 1.7200. Large stops at 1.7095 with more at 1.7080 and large bids at 1.7030/40.
NZDUSD is consolidating yesterday's gains, chopping around between 8810s and 8830s. Small stops seen above the overnight highs, with large offers at 8850 and a barrier at 8900. Bids at 8785, larger at 8770.
Data on Tap today (all times GMT)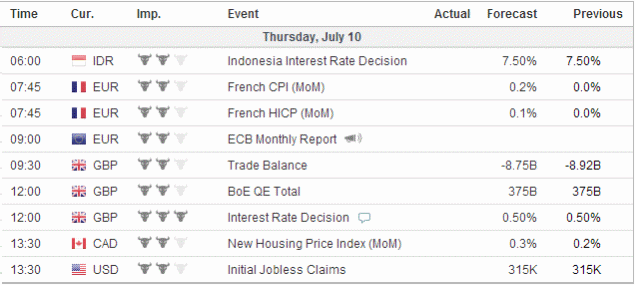 Good Luck today.