Overnight Developments
NAB Business Confidence rises to 8 from 7, Conditions also rose to +2 from -1
Japan Trade Balance -Y 675.9 billion from -Y 822.5 billion expected
Japan May Current Account Balance Y522.8 vs Y417.5 billion expected
NZ Q2 Business confidence 32% vs 52% prior
NZ Q2 Capacity Utilization 90.6% vs 89.4% prior
Various articles from FT/Guardian are spewing out very negative views on the Euro.
The Nikkei is currently down -0,09% at 15,365, the Hang Seng is down -0,14%% at 23,509, the Asx is also down -0,07% at 5,515 and the Shanghai Composite is down -0,15% at 2,056.
Gold is up +0,09% at 1318, Silver is up 0,11% at 21,038, Crude is down -0,08% at 103,45
The US 10YR is flat at 2,617.
FX Update
NZDUSD dollar fell to 8740 following the weak NZIER Business Opinion Survey before recovering up to 8770 thanks to a thirst for yield. Stops are seen at 8780 with offers ahead of the Barrier at 8800. Bids are seen back at 8720 with stops at 8710 and bids at 8685.
AUDUSD woke up with a boost as June's NAB business confidence was good and conditions improved. Aussie took out stops in the 9370/80s. We got to 0.9396 then sellers appeared head of the 9405 stops.
USDJPY saw some early birds selling from 101.86 area and there is some selling interest noted in the 101.90-95 area. Tokyo names were keen sellers at the open, which sent dollar to 101.68 before recovering to 101.80s. Bids are seen at 101.50. Offers are seen at 102.10 with stops at 102.20/25 and stronger offers at 102.40/50.
EURUSD was rather exciting, going up and down and down and up in a 7 pip range: 3603/3610. ACB offers seen at 1.3620 with more large offers at 1.3640/50. Stops are seen at 1.3575 with bids at 1.3560 and macro bids at 1.3550.
GBPUSD continued the recovery off of yesterday's lows/1.7110s and printed a high of 1.7147 before retreating to 1.7120s. Bids are seen at 1.7000 with stops just below, and more bids at 1.7055. Stops/offers seen at 1.7160/75 and more at 1.7190/7200.
USDCAD continues to recover after the IVEY PMI index continued to fall yesterday to a 6 month low of 46.9 from 48.2. Options traders report that CAD 1m Vol has gone from 4.55 to 4.9 yesterday and the 1y from 5.8 to 6.0. The vol move speaks of two things: firstly the market is short Cad vega, having been paid by customers last week. And secondly the vols were starting from a very low base. When the front vols are on a 4 handle, they can stay there only if spot stays really stuck still. A middle sized move in either direction is all that is required to move vols back on to a 5 or even a 6 handle. Offers are seen at 1.0690 ahead of large stops at 1.0705. Corporate bids seen at 1.0620/30 and large bids at 1.0605 ahead of a Barrier at 1.0600.
Data on Tap today (all times GMT)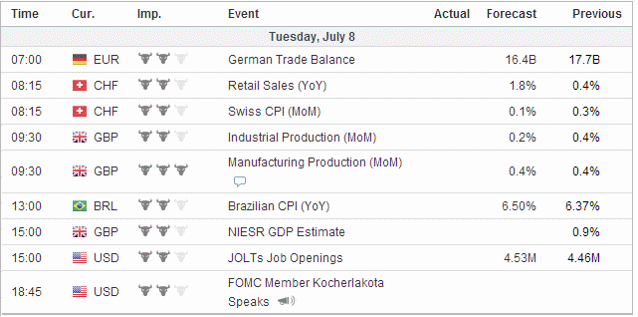 Good Luck today.