Daily Briefing – July 3rd 2014
Overnight Developments
RBA's Steven let rip on the Aussie:
Investors Under-Estimating Chance of A$ Decline

Some Areas of Housing Market Appear to Have Calmed

Full Effect of Accommodative Policy Yet to Be Seen

Most Measurements Suggest A$ Is Overvalued and not by a few cents

Sees Early Signs of Rebalancing in Economy

RBA still has ammunition on rates despite accommodative settings

RBA's Stevens: Puzzled why US dollar is so low / Obvious the Fed will be out of QE in a few months

Australian Building Approvals 9.9% vs 3.2% expected, 14.3% y/y vs 8.0% expected

Australian retail Sales -0.50% m/m vs flat expectations

Australia; Ai-Group June PSI 47.6 vs 49.9

HSBC China Services PMI 53.1 from 50.7

The Nikkei is currently down -0,22% at 15,330, the Hang Seng is flat at 23,545, the Asx is also up +0,69% at 5,493 and the Shanghai Composite is up +0,08% at 2,061.

Gold is down -0,59% at 1323, Silver is down -0,93% at 21,108, Crude is down -0,34%% at 104,13, the US 10YR is down -0,34% at 2,619.
 FX Update
What was expected to be a quiet session before ECB and NFP, turned rather lively as RBA's Stevens told us what he really thought about the Aussie.
AUDUSD dropped like a stone from 9435 to 9376 as Stevens unleashed a barrage of dovish comments, we settled at 9390 ahead of the data, retail sales came out a lot worse than expected, whilst building approvals were much better, the Aussie dipped to 9371 before recovering to 9390. Trading then centered between 9375/9390 for the balance of the session. Support seen at 9357, 50% fibo on the 9209/9505 rise and this matches the bids seen at 9350/55. Stops are seen below 9350 and 9325. Topside, stops are at 9470 and offers at 9480 and 9500. AUDJPY sank from 96.11 to 95.46 on Stevens comments, double top now in place at 96.45/50, sell stops under 95.40 with larger sell stops starting at 95.20.
NZDUSD tried to mimick the action but without luck. The most it stirred up was a touch of yesterday's high (8780) and yesterday's low (8748) only to end up right in the middle. Stops are seen at 8790 with Offers protecting the Barrier at 8800. Large stops are seen at 8745 with bids at 8740 and stops at 8725.
USDJPY gravited higher on Japanese retail demand, pushing the unit from 101.75 to 101.96, large option expiry's are being touted between 102.00/10, Japanese exporter supply also kicks in there. Resistance seen at 102.02, 50% fibo on the 102.80/101.24 fall, which stacks up with some stops seen at 102.05. Bids have been hit at 101.75 and their stops are at 101.35 with further bids at 101.30.
EURUSD consolidated around 1.3650, traders not willing to add to positions ahead of today's ECB meeting. Stops are seen at 1.3630/40, bids at at 1.3620 and larger at 1.3600. Offers start at 1.3675 with stops just above and stronger offers at 1.3695. EurGbp offers near the 0.8000 and some desks report stops through the figure.
GBPUSD was as boring as ever, stuck in a 15 pip range between 1.7150 and 1.7165. Stops mixed with offers are seen at 1.7175 with stronger offers at 1.7190/00 protecting the Barrier Option at 1.7200. Below, there are stops at 1.7140 with bids at 1.7115/10/00 and stops below.
USDCAD is continuing to consolidate yesterday's gains, trading currently at 1.0670. The drop-base-rally just ahead of 1.0600 is interesting from a technical perspective. Offers are seen just above market, with stops at 1.0680 and larger offers at 1.0700. Bids are seen at 1.0620 with larger interest at 1.0600 and large stops seen at 1.0560. There is a decent 1.0680 strike rolling off today NY cut.
Data on Tap today (all times GMT)
Busy day today, before the US market closes for Independence Day.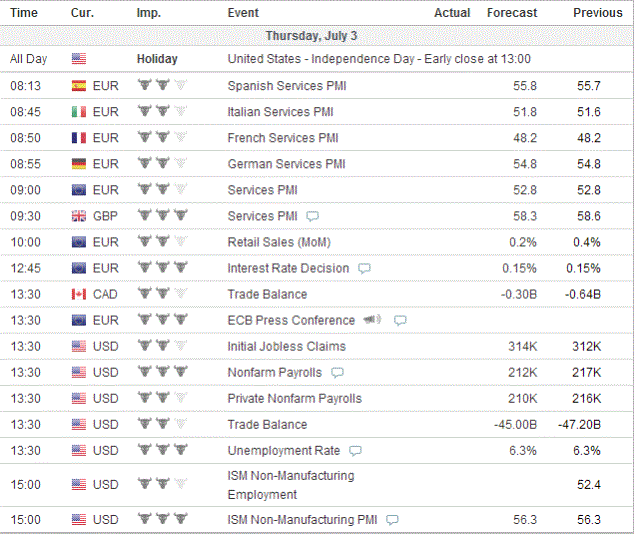 Good Luck today.