Overnight Developments
Australian May Deficit widens to AUD1.911 billion vs AUD 200 million expected
Australia's Parkinson sees further falls in Terms of Trade / 2014/15 GDP of 3.0%, 2015/16 of 4.75% well below the average rate of growth for the last 20 years
Russia's economic crisis deepens as EU readies fresh sanctions – AEP
NZ June Commodity export prices fall 0.9% m/m
Frances former President Sarkozy detained by police in corruption probe
The Nikkei is currently up +0,48% at 15,400, the Hang Seng is up +0,88% at 23,395, the Asx is also up 1,14% at 5,437 and the Shanghai Composite is down -0,23% at 2,046
Gold is up +0,04% at 1327.00, Silver is down -0,21% at 21,072, Crude is up +0,13% at 105,46, the US 10YR is flat at 2,565.
FX Update
Just a side note, yesterday was a tear-drop session for many I believe. Markets traded like the "old days" with risky assets moving higher, bonds lower and commodity currencies leading the parade. Hope you all got a piece of the trendy action.
You think it's been quiet? Then you are correct One month realised vol's for USDJPY are at all time lows…that's going back 28 years! One month realised vol's for EURUSD are at the lowest since the Euro's inception and only Aussie was actually quieter in the mid 90's…but still!
AUDUSD opened at 9497 and had a 9453/9499 range, the move lower followed the shocking trade deficit, widening to a staggering AUD1.911 billion from AUD 200 million expected, exports falling 5% on the month. Chinese names were the buyers off the lows and the Aussie closed at 9460. There still appears to be a DNT at 9550, with defence offers just below at 9545. Bids at 9440, with stops at 9410 and bids at 9400.
NZDUSD opened at 8776 and has since traded lower along with the Aussie. We're currently around the day's lows in the 8750s. Bids are smack at 8750 with stops at 8745 and bids further down at 8725. Small stops present at 8760, with more at 8780 and offers protecting a Barrier at 8800.
USDJPY inched higher from 101.51 to 101.66, the move mirroring the Nikkei, closing at 101.61. Exporter and option sell orders touted between 101.70/80, stops above 101.80, importer demand 101.40/50 and very good bids cited between 101.20/25.
A crazy session for the EURUSD, opening at 1.3679 we traded a whooping 4 pips either side of that level. Offers stacked at 1.3700 with stops at 1.3705 and more offers around 1.3725. Sell stops present at 1.3665 with leveraged bids present at 1.3650 and stops 1.3640.
GBPUSD possibly more boring than the Euro, stuck at 1.7147 and having traded 7 pips either side. There are offers reported at 1.7165, stops at 1.7170 and a mix of stronger offers and stops at 1.7200. Bids commence at 1.7115 with stops at 1.7095. Further down, bids are present at 1.7070.
USDCAD opened at 1.0630 and has since retraced higher about 10 pips. Stops present at 1.0655 with offers at 1.0695 and large stops at 1.0700. Large bids present at 1.0605 with a DNT touted at 1.0600 and stops at 1.0595.
Data on Tap today (all times GMT)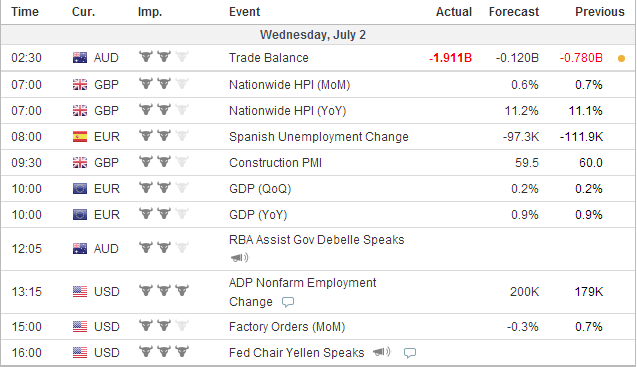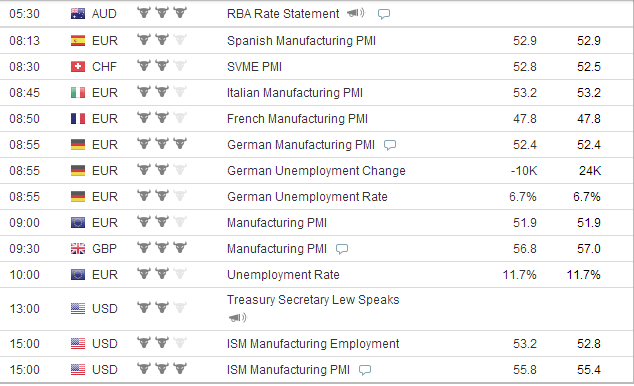 Good Luck today.