Daily Briefing – July 1

st

2014
Overnight Developments
RBA leaves rates unchanged as expected

China Official Manufacturing PMI 51.0 as expected

HSBC China Manufacturing PMI 50.7 from 50.8 expected

Japanese large Manufacturing Tankan index 12 vs 15 expected / Large Industry Capex 7.4% vs 6.0% expected

Japan; Markit/JMMA Manufacturing PMI 51.1 from 49.9 in May

Japan May cash earnings rise 0.8% vs 0.7% forecast

Australia: Ai-group PMI for June 48.9 vs 49.2 prior

Stiglitz: Introducing Euro was Europe's biggest mistake / US is not recovering well from financial crisis.


Ukraine PM ends cease fire in eastern regions / Blames rebels for failure of peace plan/ Militant violated cease fire over 100 times


BNP Paribas pleads guilty and is slapped with $8.8 billion dollar fine

The Nikkei is currently up 1,18%, the Hang Seng is down -0,13%, the Asx is also down -0,19% and the Shanghai Composite is down -0,16%.

Gold is up +0,44% at 1327.90, Silver is up +0,32% at 21,123, Crude is up +0,24% at 105.63, the US 10YR is up +0,50% at 2,529
FX Update
Surprizing USD-weakness yesterday into end of month/end of quarter fixing. Some desks say this was the first month in a few where there was big interbank fixing interests in the market and it felt like the market movement was being influenced by the month ends. While it makes sense being month end, quarter end, half year end etc, it's also interesting as those users who haven't had natural fixing needs (ie fund managers who use it to mark etc) have shied away from fixing orders in light of the scandal (ie the random user who was otherwise putting in fixing orders just because seems to have backed off in light of the scandal).
USDJPY rose steadily from 101.30 to 101.45 on Tokyo fixing demand. Japan's Tankan headline was poor, but Capex intentions were much better, Japanese retailers continued to buy USDJPY and Nikkei, pushing the unit to a high of 101.53, with decent gains in the Nikkei heading into the Tokyo break. Official bids are being touted between 101.20/25, wiht stops at 101.15 and larger bids at 101.00. Offers area stacked up in the 101.50/60s with stops at 101.75 and offers also at 102.00.
EURUSD consolidated between 1.3686 and 1.3698, little in the way of flows or interest. 1.35/1.37 DNT being touted, sovereign supply cited between 1.3700/10. Sell stops seen at 1.3640, with bids just below at 1.3635 and more stops at 1.3520/25.
GBPUSD was also boring overnight, staying between 1,7098 and 1,7115. Small offers seen at 1.7120, with macro offers at 1,7150 and stops just above. Sell stops at 1.7045 with large bids at 1.7000 and stops just below.
AUDUSD was confined to a narrow 9416/9436 range pre-RBA and then had a spike above last week's highs to 9450 after the rate decision. Flows were otherwise generated on the crosses, as Japanese were net buyers of AUDJPY on the day, which took Aussie towards the mid 9430s. The majority of the time was spent trading in the 9420s, the market reluctant to put on fresh positions ahead of the RBA. There are still bids resting at 9400 with stops at 9385 and more bids at 9375. Topside, stops are present in the 9460s (April's high).
USDCAD should be quiet today as it has been overnight, stuck between 1,0663 and 1,0676. Small stops are seen at 1.0680 with offers at 1.0695 and more stops mixed with offers at 1.0720/25. Bids commence around 1.0650 with stops just below and larger bids at 1.0600.
Data on Tap today (all times GMT)
Just a reminder that it's Canda Day, and it's the 147th anniversary of the birth of Canada as we know it today, when the British North America Act of July 1st 1867 joined Nova Scotia, Ontario, Quebec and New Brunswick. Other provinces joined later with Newfoundland being the last to enter Confederation in 1949.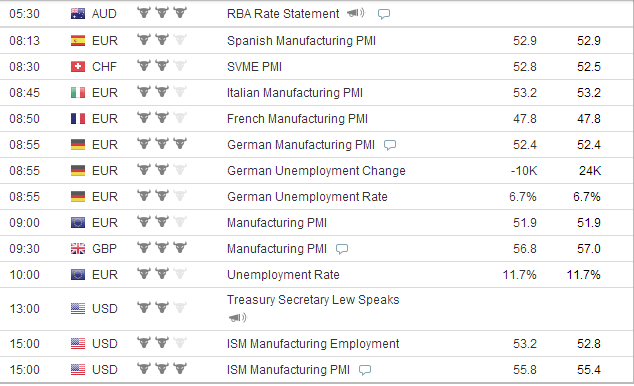 Good Luck today.