The charts levels and zones will be color coded for the benefit of readers as follows:
Weekly TF = Black. Daily TF = Gold. 4hr TF = Brown
EUR/USD:
Daily TF.
Previous 52-week/Monthly and Weekly highs (1.38934/1.39060/1.38892) stood no chance today with the bulls in full force.
A supply area at 1.39669 – 1.39317 has been identified, where a bearish reaction is currently being seen, but not with conviction. It is doubtful the selling pressure will be able to overcome the buyers, even if a retrace does persist.
The round number 1.40000 is so close; traders can smell the liquidity lurking around it. Expect serious sellers to be waiting here as a lot of traders around the world will be watching this figure. With so much attention around this small area, and the expectation of a reversal here, what will Pro money be thinking? A guess would be to try and gain as much liquidity for a big move in their favor. This big figure will not only have sellers waiting, but also buyers attempting to buy the breakout. A supply area above marked with a check at 1.42443 – 1.41146 is a perfect area to facilitate a fakeout of this big number. Swing traders trying to fade the area will have their stops 20 to 30 pips above the figure on average, these stops will be buy orders if/once they are triggered. Pro money will then sell into the buy stops in small batches of orders not allowing price to move too far from their entries. The supply zone above will just add fuel to the selling pressure for the fakeout to be completed.
So do keep a watchful eye on the big figure and the Daily supply area above it which is within weekly supply at 1.42445 – 1.38589 as mentioned on the weekly outlook analysis.
Demand on this timeframe is still seen at the S/R flip area at 1.37974, this was the last place serious buyers came into the market.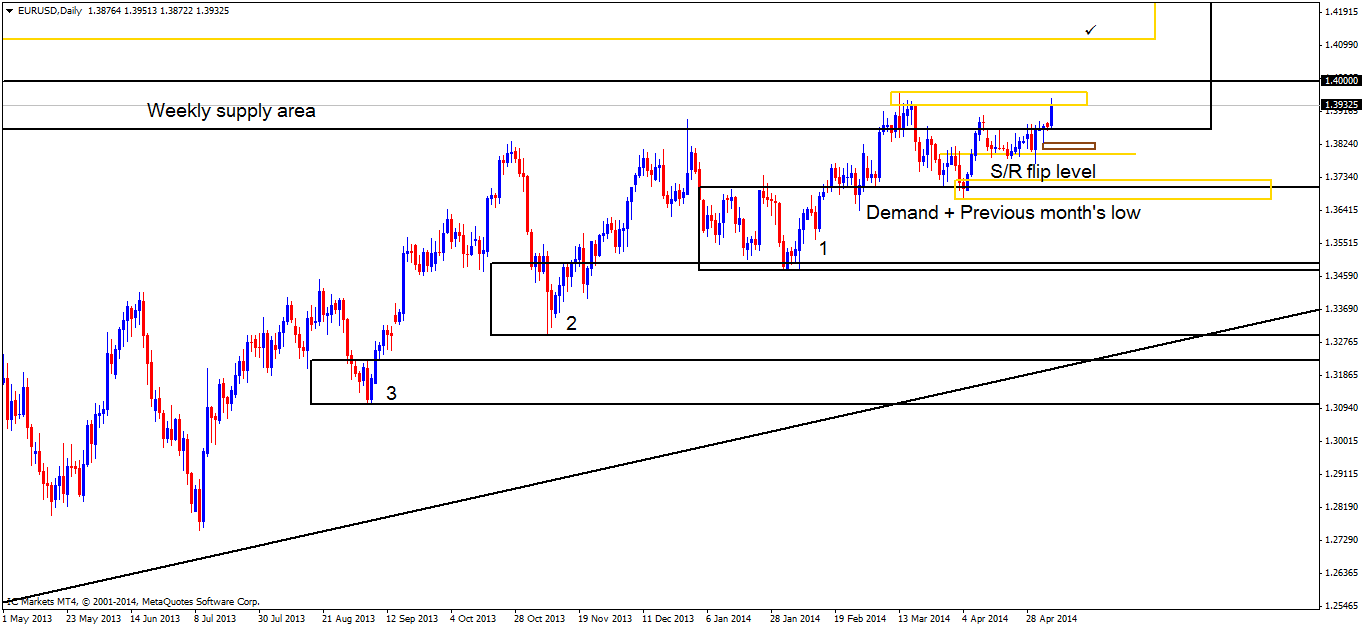 Here is just a reminder of how beautiful the supply marked with a check looks in history, who would not want to trade this area??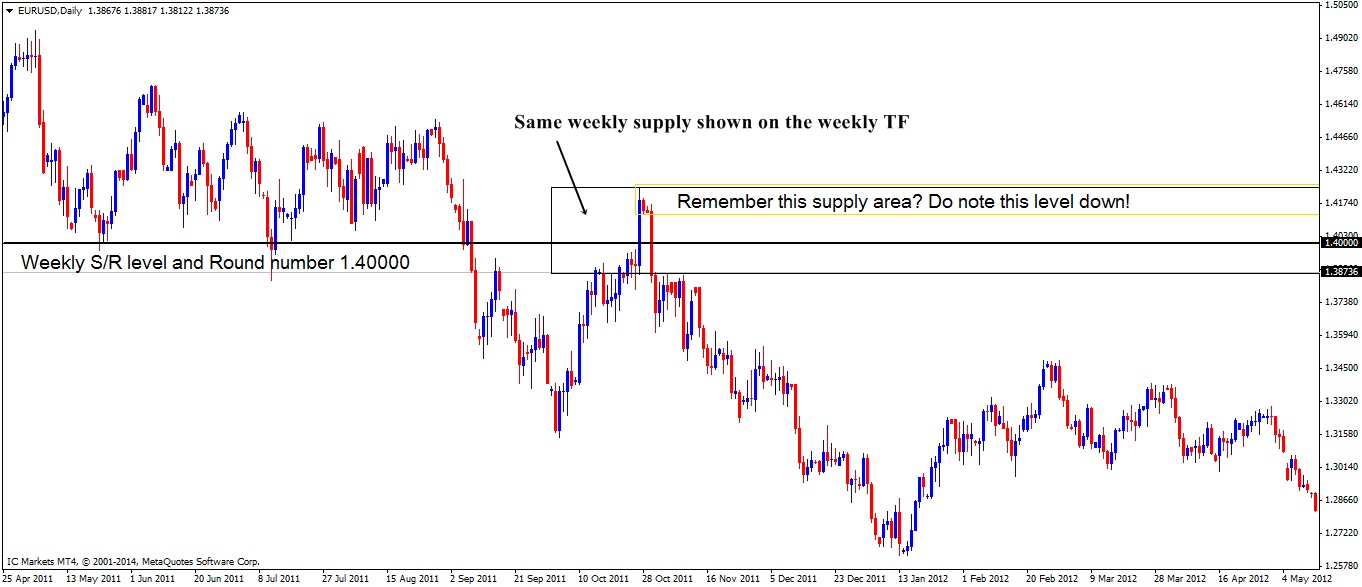 4hr TF.
After rallying for 2 consecutive 4hr candles up to Daily supply (levels above), price action shows buyers were totally in control for most of the day yesterday.
On this timeframe, two demand areas are worth noting down , the first, a decision point for price rally up to supply which is the highest of the two marked with an x,at 1.38709 – 1.38798 , and below, the demand area and origin of the whole rally at 1.38709 – 1.38798.
Either 2 of these demand areas may have active buyers waiting if price retraces far enough, so as always, trade with caution.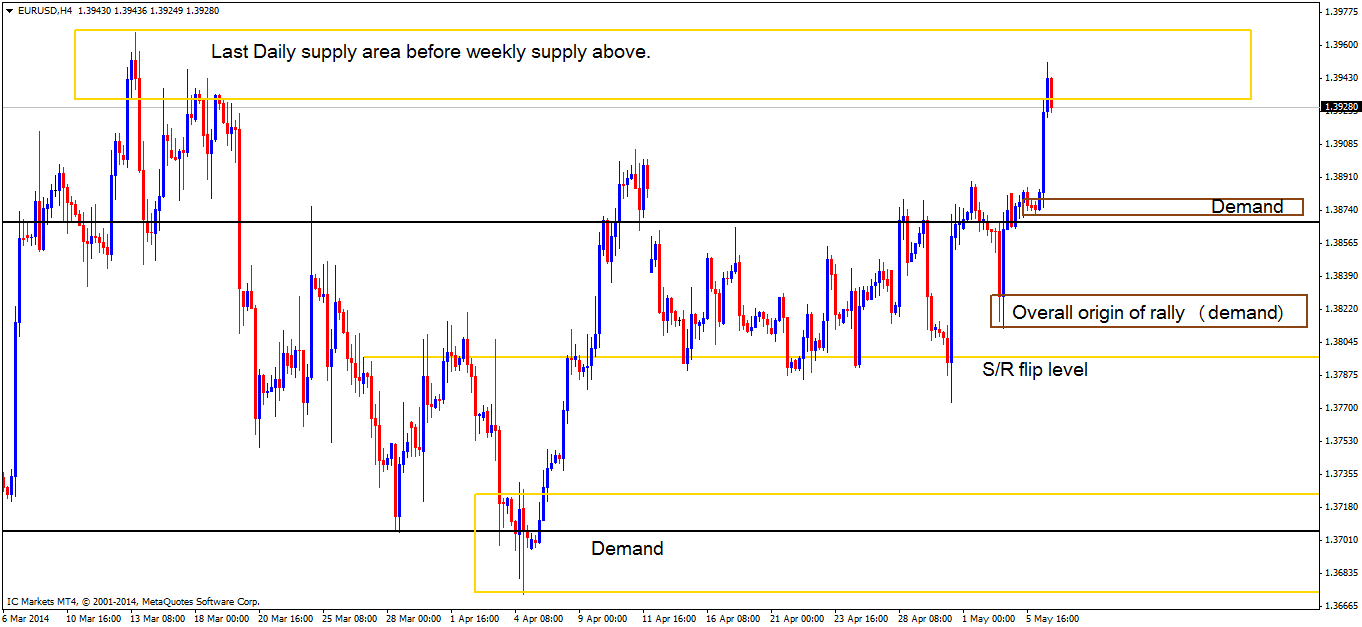 Areas to watch for buy orders:

1.38709 – 1.38798, 1.38709 – 1.38798

,

1.37974

Areas to watch for sell orders:

1.42443 – 1.41146, 1.40000, 1.42443 – 1.41146

Most likely scenario: Price will likely not see much reaction at the current Daily supply as most of the supply has been consumed previously. A touch of the

1.40000

is expected very soon.
GBP/USD:
4hr TF.
As reported in the last analysis, if price was to shoot north, the next supply is at 1.70372 – 1.69811, which is within Daily supply (1.70372 – 1.68747). Price is currently reacting near the big figure 1.70000 within the 4hr supply area.
A break of this supply would not only be breaking 4hr area, but the daily too. Price would then be entering major supply on the Weekly timeframe at 1.76290 – 1.70420 as shown on Monday's weekly outlook.
Similar to the Euro, there are 2 obvious demand areas below for price to react to, if a drop happens. The lowest of the two is not a fresh level at 1.68069 – 1.68280,the next demand higher up is a decision point on this timeframe to take price deeper into supply at 1.68522 – 1.68729.
If a decline does take place, there is very little to stop price getting to the near-term demand zones highlighted above.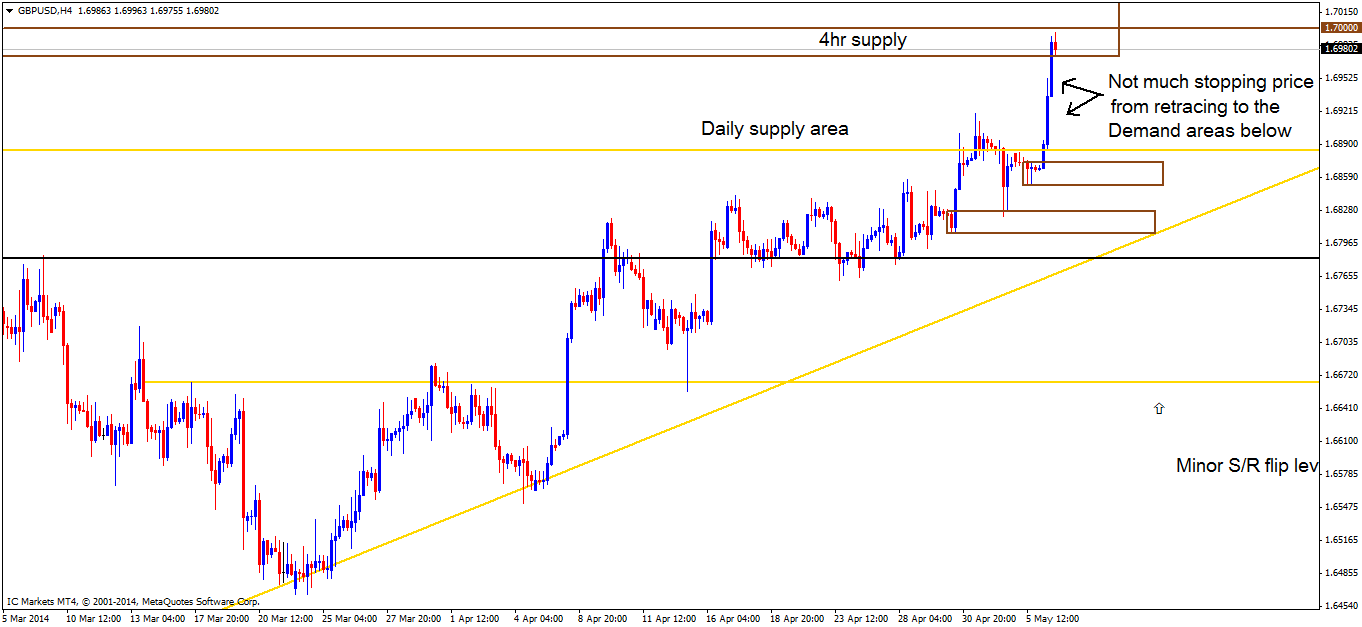 A quick reminder of how the supply areas look on the higher timeframe.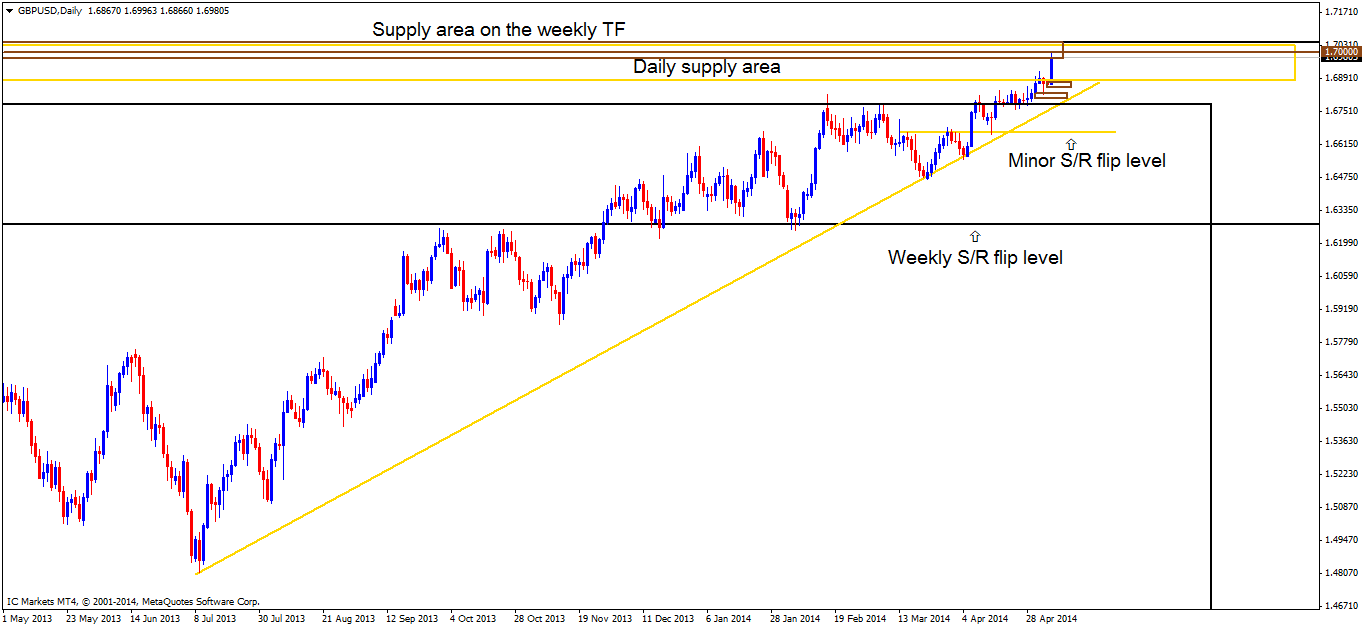 Areas to watch for buy orders:

1.68069 – 1.68280, 1.68522 – 1.68729

Areas to watch for sell orders:

1.70000

,

1.70372 – 1.69811

Most likely scenario: Price will likely see a retracement here, so do set alerts near the mentioned near-term demand areas.
AUD/USD:
4hr TF
The minor consolidation between the S/R flip level at 0.93124 and demand (0.92029 – 0.92299)has been broken. The upper limit (S/r flip level) was challenged as reported, the spike up was to clear out the remaining sellers for the rally to supply at 0.93784 – 0.93751.
Price is currently testing this very supply area at the time of writing which was reported may happen. Nonetheless, a deeper move into supply is expected due to the S/R weekly flip level at 0.93718 and fresh 4hr supply at 0.94232 – 0.09040 with the round number just below (0.94000). This iscoupled with being surrounded by daily supply at 0.94466 – 0.93777.
If price resolves south reacting from supply, we have support which was previous resistance at 0.93124 where a reaction may be seen, if only for a bounce, then down to the decision point of the rally at 0.92580 – 0.92746 for a bigger reaction.
This pair has not changed much medium term, and still remains capped either side between Daily supply at 0.94466 – 0.93777 and demand at 0.92037 – 0.92825 which can be clearly seen on the 4hr timeframe below.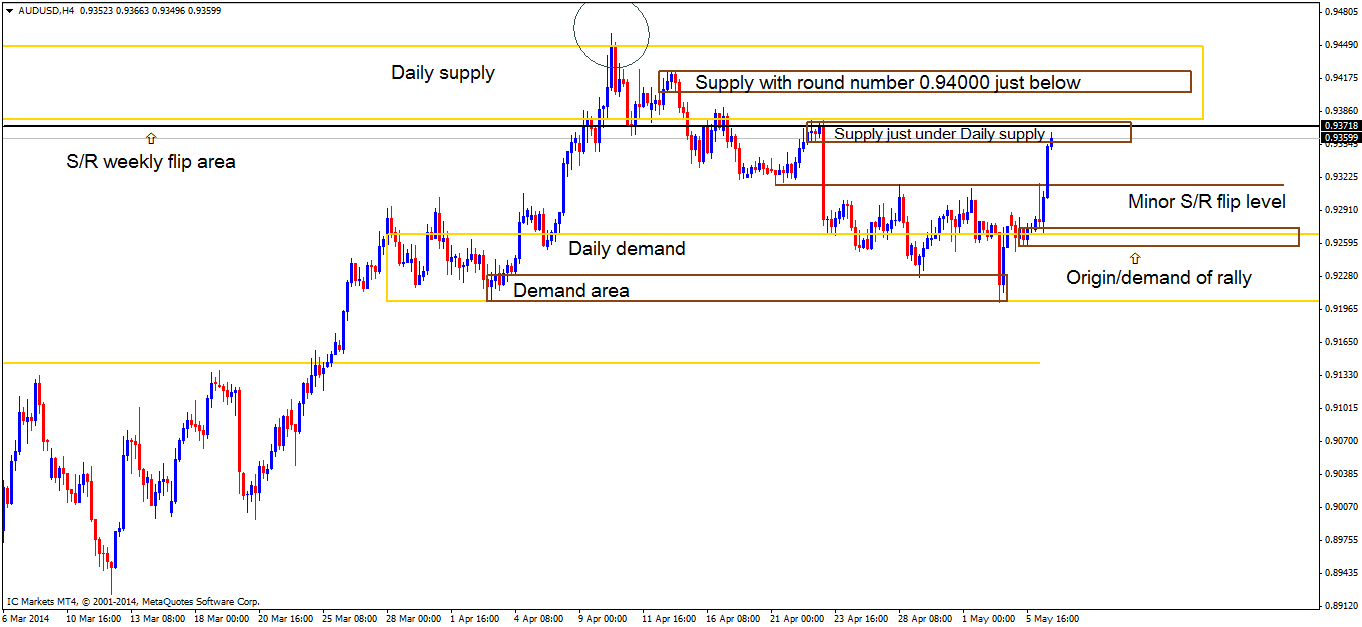 Areas to watch for buy orders:

0.93124, 0.92580 – 0.92746

Areas to watch for sell orders:

0.93718, 0.94232 – 0.09040, 0.94000

Most likely scenario: Price will likely push deeper into supply to find more sellers before making any kind of retracement, if any.
USD/JPY:
Daily TF.
A reminder of the higher timeframe price action:
No change has been seen to either supply at 104.831 – 104-121 or demand at 101.236 – 101.769 which has capped price either side.
At the time of writing the bears have been selling hard into daily demand (levels above), do not forget though, there's also a powerful weekly S/R flip level at 101.328 currently with trendline confluence, so a break of this demand area will not be easy.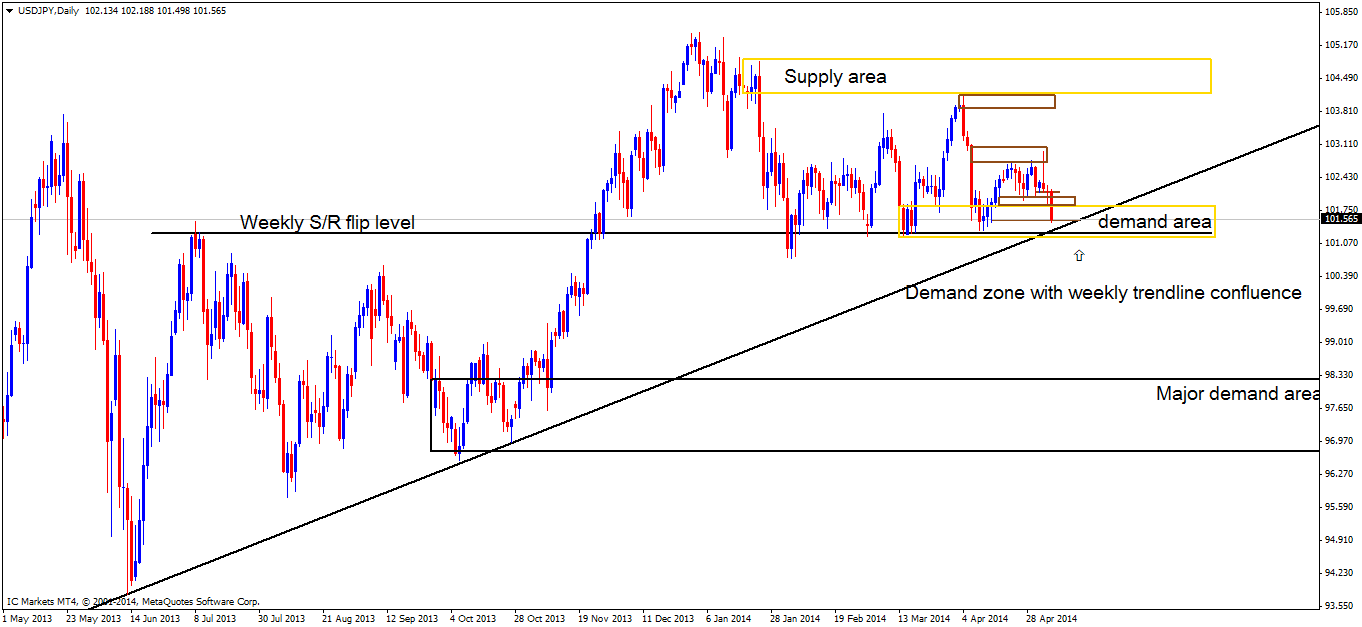 4hr TF.
The minor consolidation was broken south, a reaction off of a small S/R flip level at 102.128 was enough for the bears to break the 4hr range (Supply = 103.067 – 102.734 Demand = 101.847 – 102.026).
As reported a break south may happen. Why did price only need a small S/R flip (level above) to break quite an important area? The reason may have been because pro money did the hard work beforehand marked with a check on the chart. This demand area was penetrated deep, consuming most of the willing buyers there, so all the big guys had to do was start selling into all these willing buyers in small chunks, once all those buyers dried up and price reached a minor level of supply – BOOM! No more buyers, pro money loaded up = big move south.
Price is reacting to an area of demand at 101.536 deep withindaily demand (levels above) which was reported to watch in yesterday's analysis. This could see price make a short rally to supply which was prior demand at 102.026 – 101.847 as a short-term target.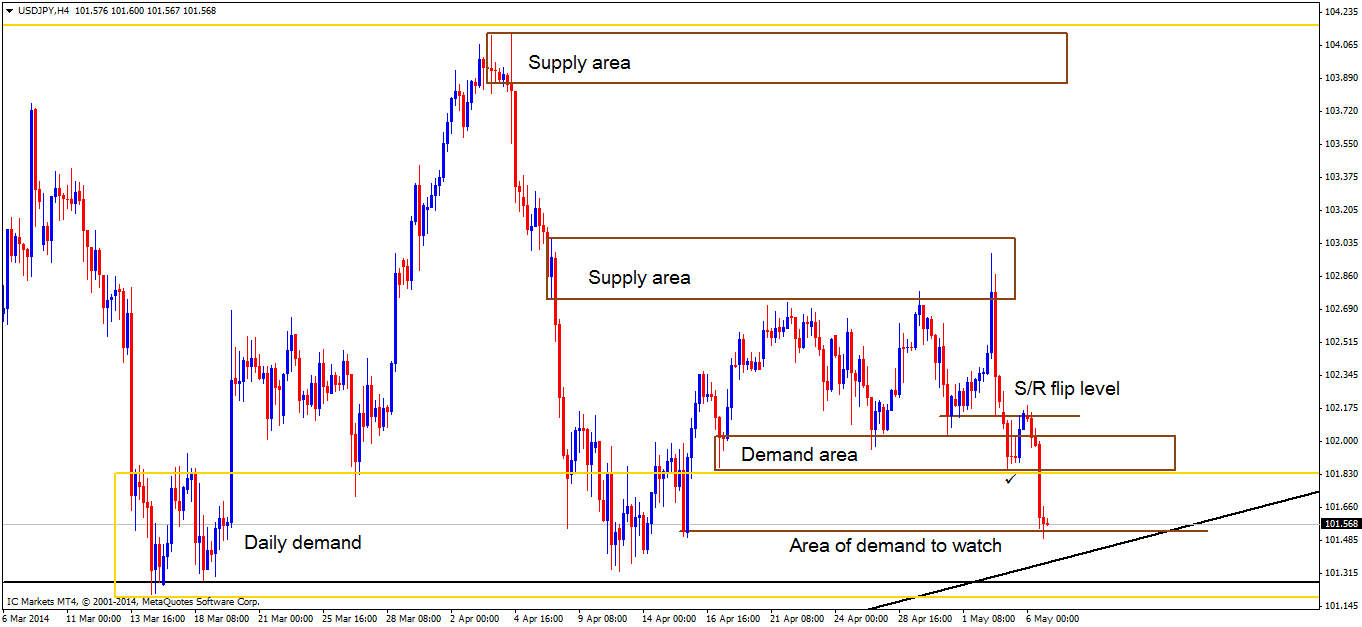 Areas to watch for buy orders:

101.536

Areas to watch for sell orders:

102.026 – 101.847

Most likely scenario: Price will likely push a little deeper south at the current demand level

101.536

to stop out traders who were long, pro money will then use the sell stops to buy into to push price higher to supply at either

102.026 – 101.847

or the small S/R flip level at

101.132

.