EUR/USD:
4hr TF.
Yesterday saw sellers take control at resistance (1.38779), this area helped sellers push price deep into the consolidation zone, confirming the breakout was indeed a fakeout. Bulls were clearly not strong enough to take price to the previous 52-week high here. Any traders who took the retest at the top of the range (1.38500) would have been stopped out for a loss, it pays to be aware of higher-time frame supply, and be extra cautious with your money going long in situations such as this.
The new demand area (1.38156 – 1.38259) that formed yesterday has now been cleared of buyers, and also broke Monday's low at 1.38144, with a neat-looking tail.
Remembering we are in Weekly supply (1.42445 – 1.38589) as shown on Monday's weekly forecast, strong selling should always be expected here, granted price may rally further into higher timeframe supply, but caution should be taken regarding locking in profits and protecting risk capital.
Price is currently heading for the bottom of the consolidation at 1.37894 buyers may be lurking here and a reaction could be seen. If a break of this lower range happens, then there's very little to stop price dropping like a rock to this month's current lows at 1.36727 and a clear demand area on top of a higher timeframe zone (1.34857 – 1.36909).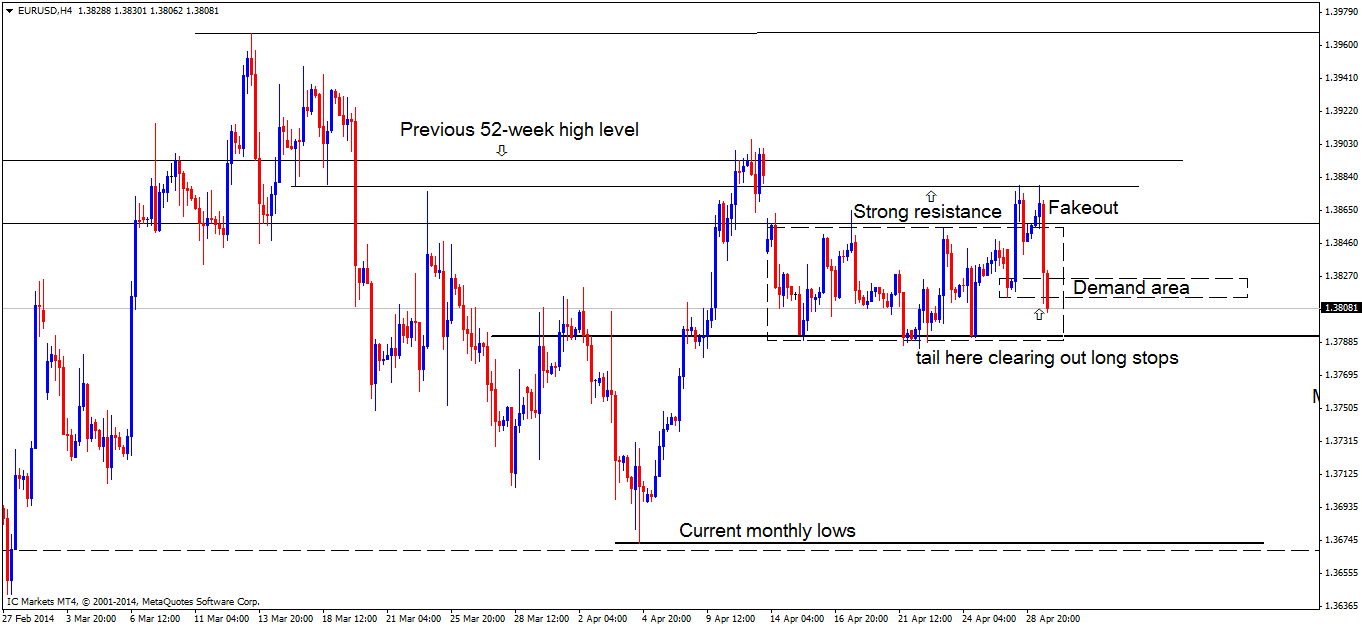 Areas to watch for buy orders:

1.37894, 1.36727

Areas to watch for sell orders:

1.38779

Most likely scenario: Price will likely test the bottom of the range for buying pressure, if there's little interest here, we may see lower prices over the next day or so.
GBP/USD:
Daily TF.
Below is a chart of the daily timeframe, this is just to remind ourselves of the bigger picture. Daily supply at 1.70372 – 1.68747 is still lingering above just waiting for price to hit! A range continues to form, could this be the big players accumulating a position? We will soon see.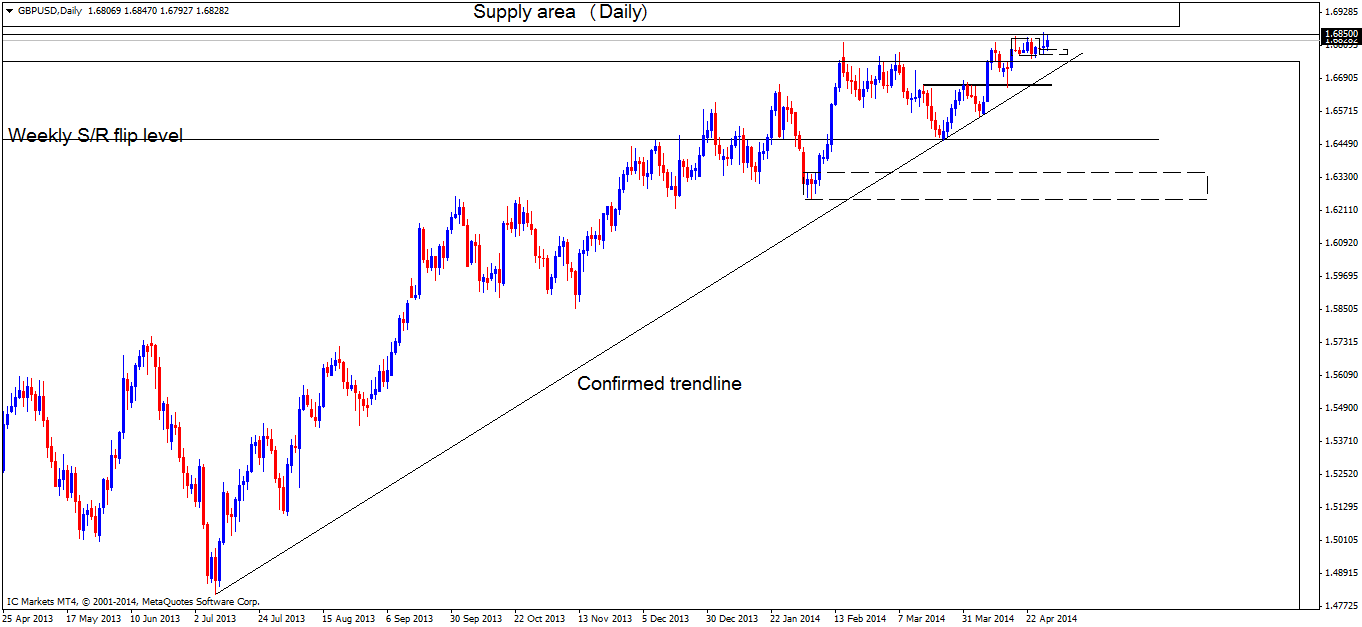 4hr TF:
The last analysis saw a good-looking demand zone (1.67782 – 1.67945) that had formed. Price has spiked this area and a nice reaction was seen. Take note of the difference between the EUR and the GBP, the EUR spiked through the demand zone and stopped a lot of traders out, but the GBP respected the zone to the pip, this was probably due to having high impacting news on both pairs that day.
Resistance at 1.68500 has proven itself a level to watch carefully. The top of the consolidation (1.68321) has been cleared of sellers from the break of the upper range. With these sellers cleared, all it has in its way of reaching daily supply above is the resistance area just mentioned.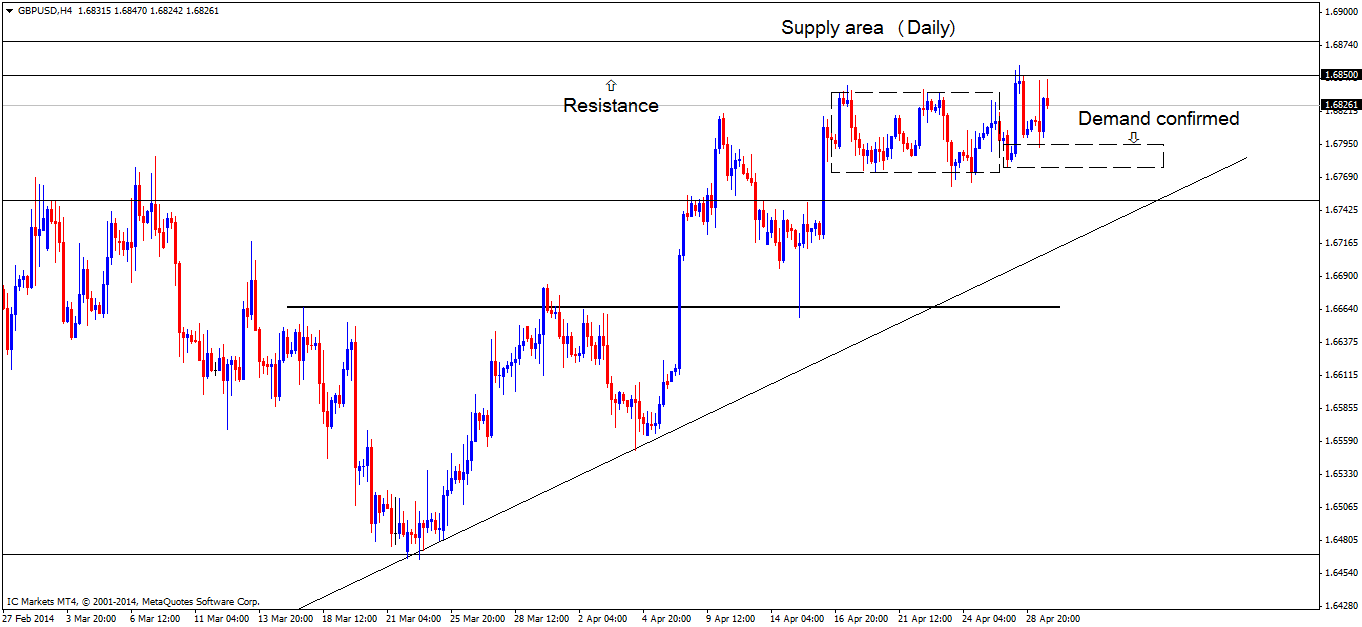 Areas to watch for buy orders:

1.67945

Areas to watch for sell orders:

1.68500, 1.68747

Most likely scenario: Price will likely range for a little while, then drop back to demand at

1.67945

for the final push up to daily supply.
AUDUSD:
H4:
Price still remains in Daily demand (0.92037 – 0.92825), and continues to move at a slow pace.
The last analysis of this pair saw price testing the previous weekly lows at 0.92515. A fakeout of the lows down to demand (0.92029 – 0.92299) was seen, this would've made a great entry long with a small take profit at around 0.92779 being the next conservative supply area.
Currently price is caught between the minor S/R flip level (supply) at 0.93124 and the previously visited demand area where the fake out just occurred.
One could play the limits in this situation with careful risk management, or alternatively wait for a break of either supply or demand and trade the retest. However, always keep in mind the bigger picture, we're currently in an uptrend and in higher timeframe demand (0.92037 – 0.92825), so long trades are sensible, this is not to say shorting the market is out of the question, just be extra vigilant and be prepared to close the position quickly.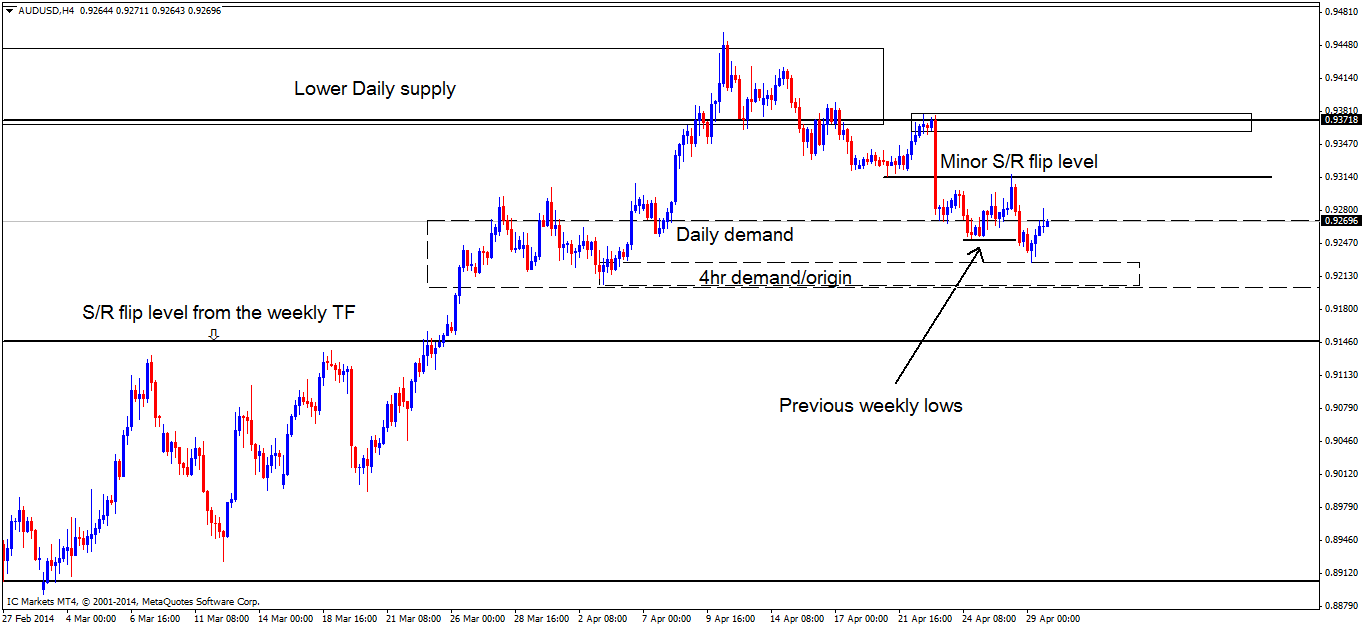 Areas to watch for buy orders:

0.92299

Areas to watch for sell orders:

0.93124

Most likely scenario: Price will likely drop back to demand at 0.92299 for a second visit to collect more buy order to rally prices up to the minor S/R flip level.
U
USD/JPY:
4hr TF.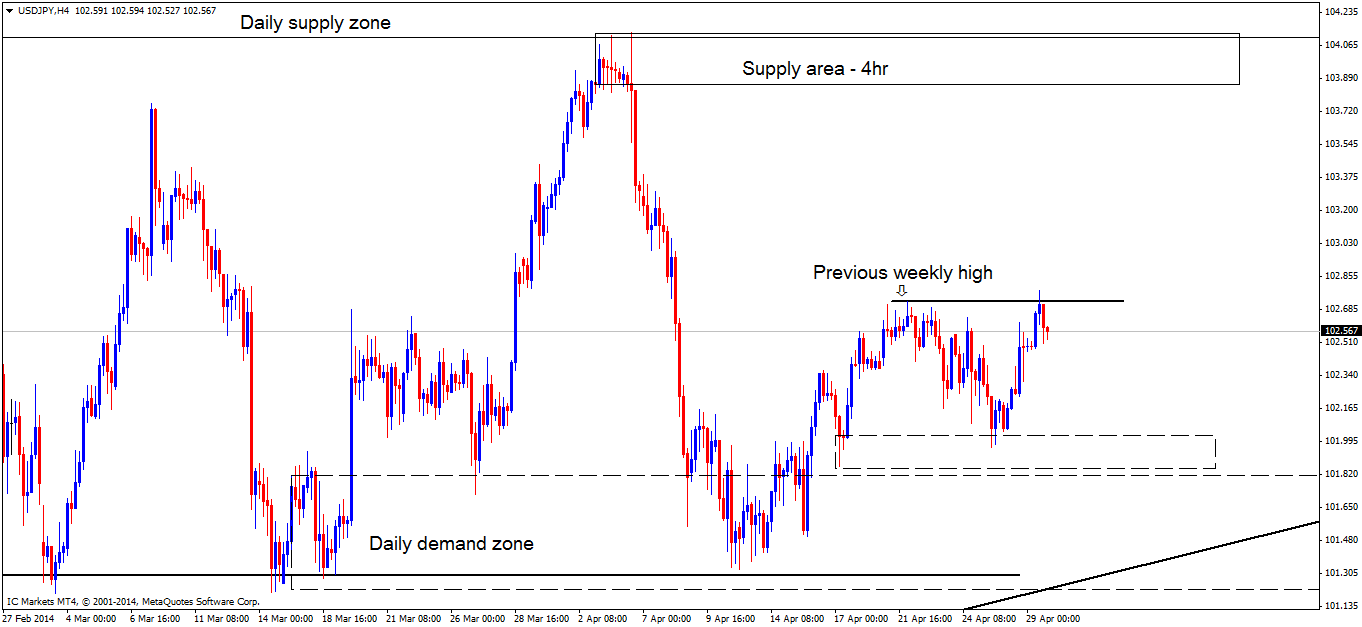 The previous weekly highs (102.725) were indeed hit, a nice spike through the high has also occurred. Where is price likely to go now? As it appears sellers have been consumed at the highs. The hourly timeframe may give the answers we're looking for.
1hr TF:
Immediate demand is seen at 102.464 – 102.510, price has already reacted to this area though. If a small bounce is seen here, a drop below to the next demand area at 102.312 – 102.351 may be in order to push prices up above the most recent swing high at 102.781. The reason behind this theory is that the 4hr timeframe shows upside potential to supply at 104.118 – 103.862.
Always be aware that the swing high (102.781) may contain big sellers also, so trade with caution!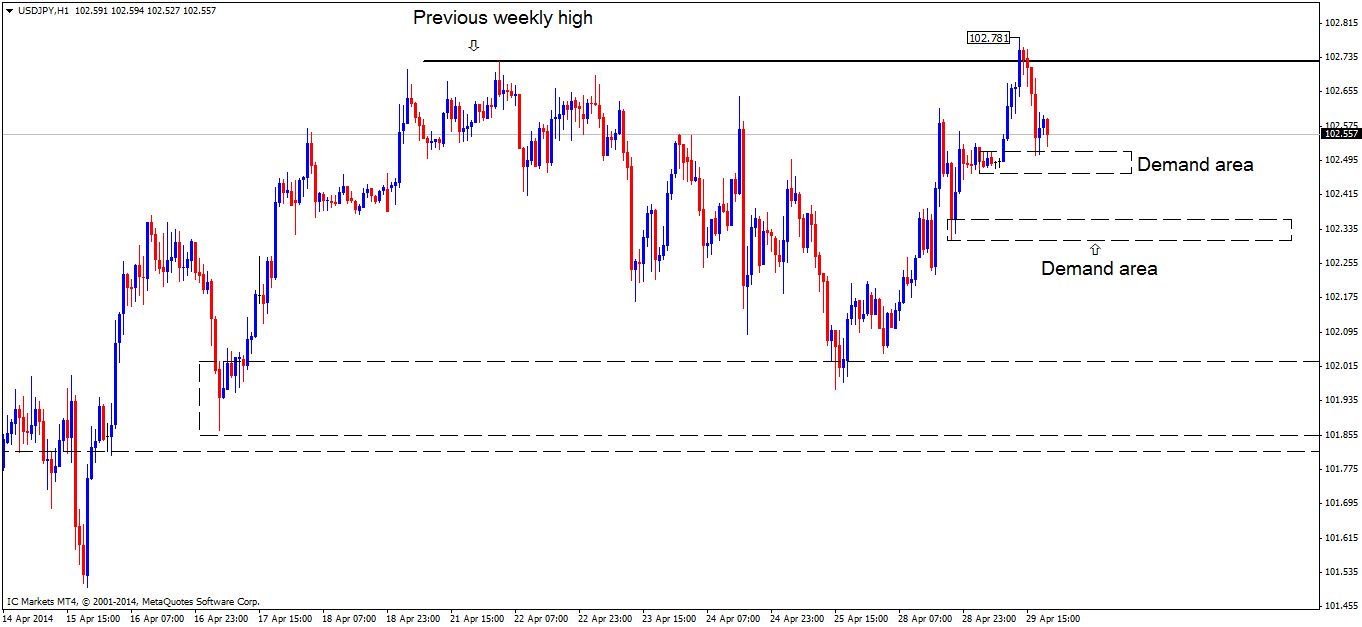 Areas to watch for buy orders:

102.510, 102.351

Areas to watch for sell orders:

102.781

Most likely scenario: Price may react at either of the hourly demand areas, but ultimately price will likely see higher prices soon.
Today's high-impacting announcements to keep an eye on:
07:55am GMT – EUR German Unemployment Change (APR)
07:55am GMT – EUR German Unemployment Rate s.a. (APR)
09:00am GMT – EUR Euro-Zone Consumer Price Index – Core (YoY) (APR A)
12:30PM GMT – CAD Gross Domestic Product (YoY) (FEB)
12:30PM GMT – USD Gross Domestic Product (Annualized) (1Q A)
18:00PM GMT – USD Fed Pace of MBS Purchases (APR)
18:00PM GMT – USD Fed Pace of Treasury Purchases (APR)
18:00PM GMT – USD Fed QE3 Pace (APR)
18:00PM GMT – USD Federal Open Market Committee Rate Decision (APR 30)