EUR/USD:
Daily TF:
It's always best to keep the bigger picture in mind. The minor S/R level at 1.37974 has proved valuable, and is currently supporting bullish momentum. Price is retracing without hitting previous 52-week highs at 1.38934.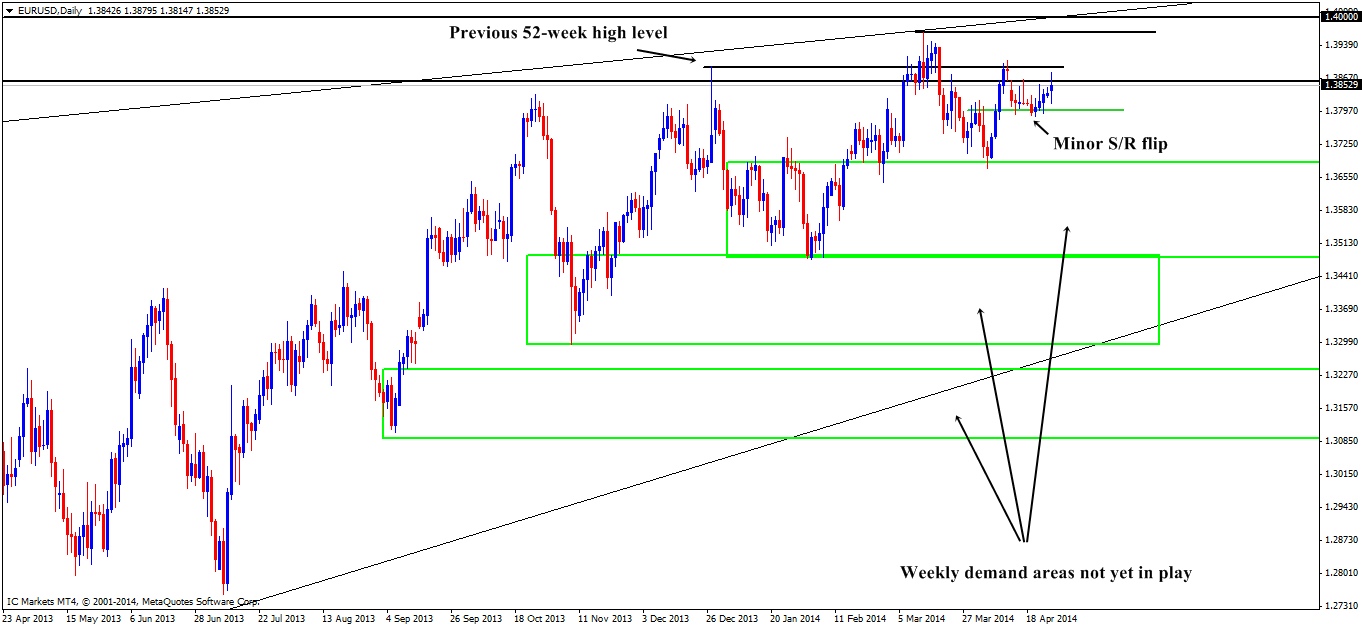 4hr TF:
Monday's analysis saw a range at 1.37894 – 1.38500, and was noted if price were to break north, we may well fake out to left-over supply near the previous yearly highs; price seems to be doing just that by reacting to a minor S/R level (1.38779) whilst falling shy 5 pips of closing the weekend gap from over 2 weeks ago (1.38806 – 1.38631).
A new demand zone has formed at 1.38156 – 1.38259, which could provide a decent reaction as this area is the origin of the break out of the upper range.
The upper range is currently being tested and could prove to be a nice long entry if price holds on the retest.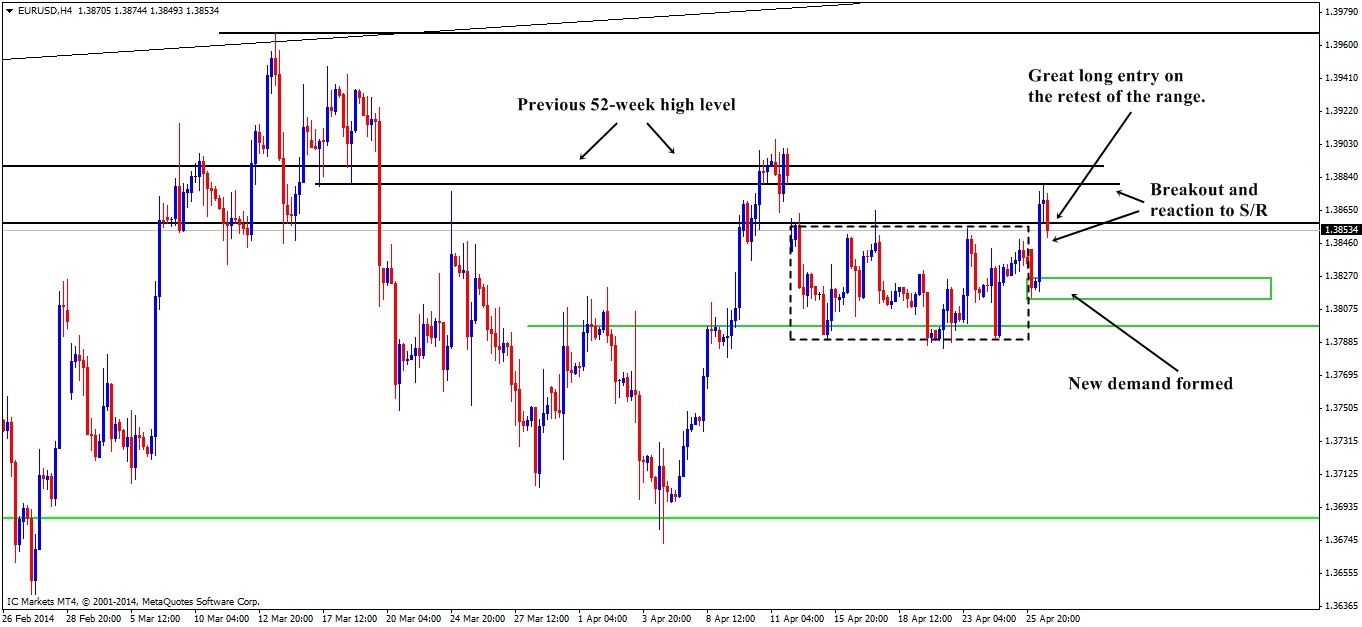 Areas to watch for buy orders: – 1.38259
Areas to watch for sell orders: 1.38779, 1.38934.
Most likely scenario: Price may react on the retest of the upper range limit, however price will likely drop to fresh demand at 1.38259 to collect more buyers.
---
GBP/USD:
Daily TF:
A quick reminder of what's going on higher up.  Consolidating price action is still being seen near historical supply at 1.70372 – 1.68747. An attempt to attack supply has been made, and was quickly rejected; maybe this was all the liquidity sellers required for a push down.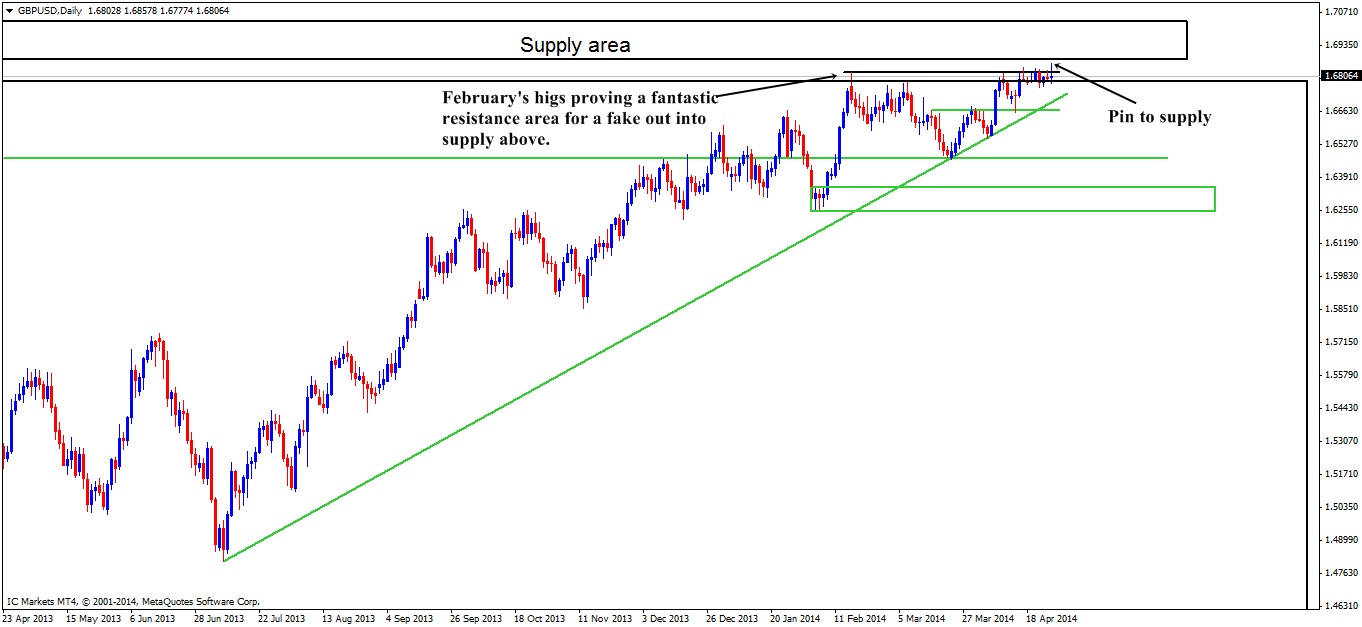 4hr TF:
As with the EUR above, a consolidation formed, price broke north, but has yet to hit supply as shown on the chart above.
A bearish reaction at a minor round number 1.68500 proved this may be enough for sellers to fill their required liquidity without hitting supply. To explain this further, a breakout such as this would have caused a lot of traders to buy, professionals with big pockets knows this! This provides a truck load of buy orders to sell into.
A new demand area has formed at 1.67782 – 1.67945, this remains important due to it being the origin of the breakout.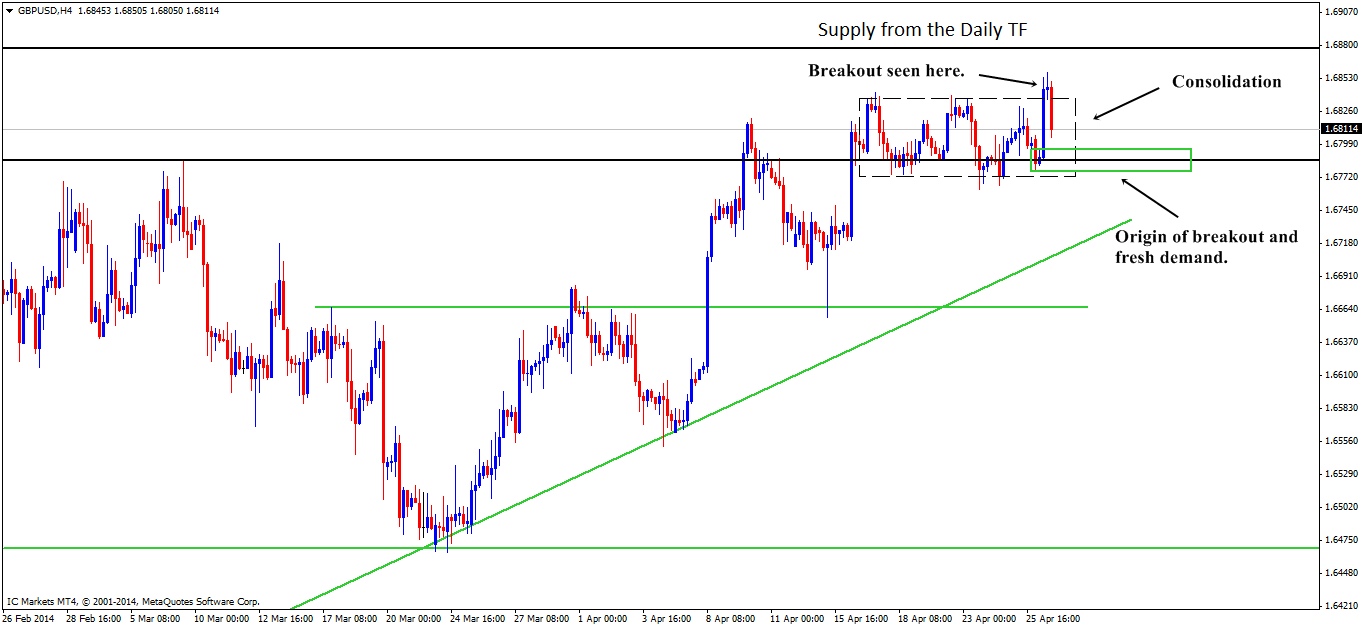 Areas to watch for buy orders: 1.67945.
Areas to watch for sell orders: 1.68500, 1.68747.
Most likely scenario: Price will likely drop to the origin/demand area at 1.67945 and react.
---
AUD/USD:
4hr TF:
The Current price movements have not changed regarding the Daily timeframe much, as we're still within Daily demand (0.92037 – 0.92825) as per Monday's analysis.
Price faked the highs at the round number 0.93000 to an S/R flip level (0.93124). The market seemed to really favor this level and could be a great area to watch for future selling opportunities.
Currently the previous weekly lows at 0.92515 are being tested. This may prove a great area of support to see a fake out into fresh demand lower down at 0.92029 – 0.92299 which is not yet in play.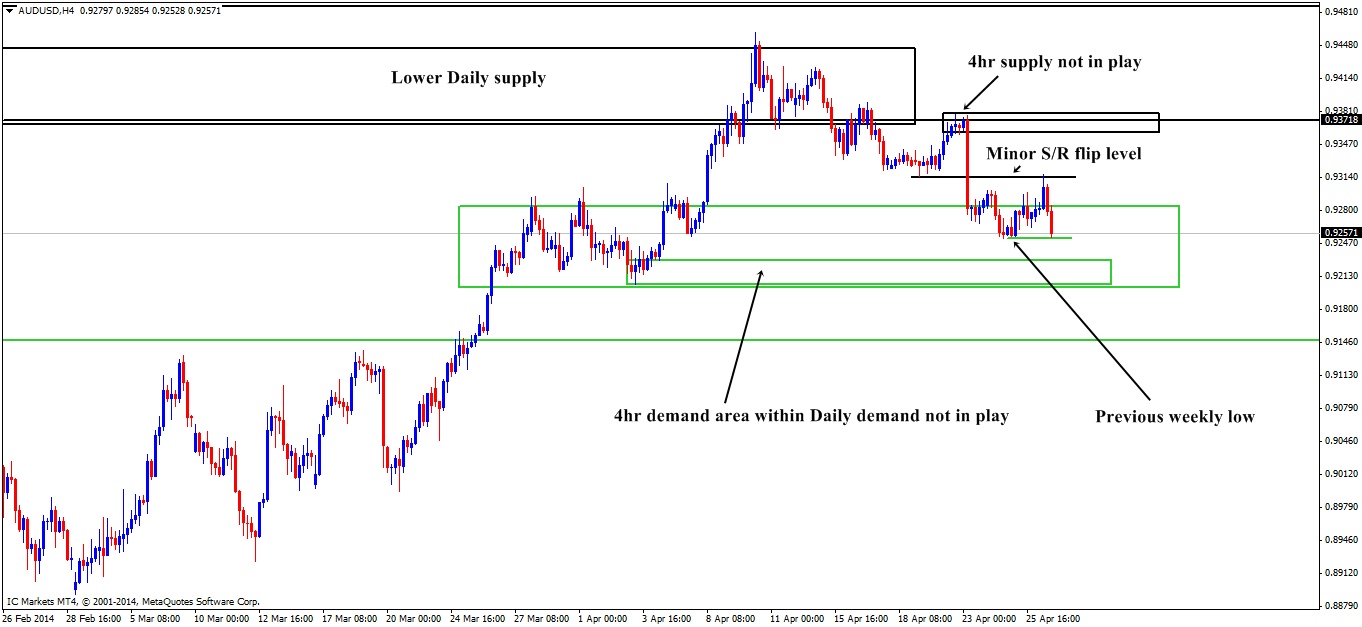 Areas to watch for buy orders: 0.92299
Areas to watch for sell orders: 0.93124
Most likely scenario: Buyers and sellers will likely battle around the weekly lows for a while. News depending, price will likely drop down to fresh demand as this is the most immediate at 0.92299
---
USD/JPY
Daily TF:
Not much has changed on the Daily TF in the whole scheme of things, we're still nicely within a consolidation, supply being at 104.831 – 104.121 and demand at 101.236 – 101.769. This pair has been in a long-term uptrend for many months now, so any trend traders wishing to join the trend may be better waiting for a decent break of this range and enter on the retest.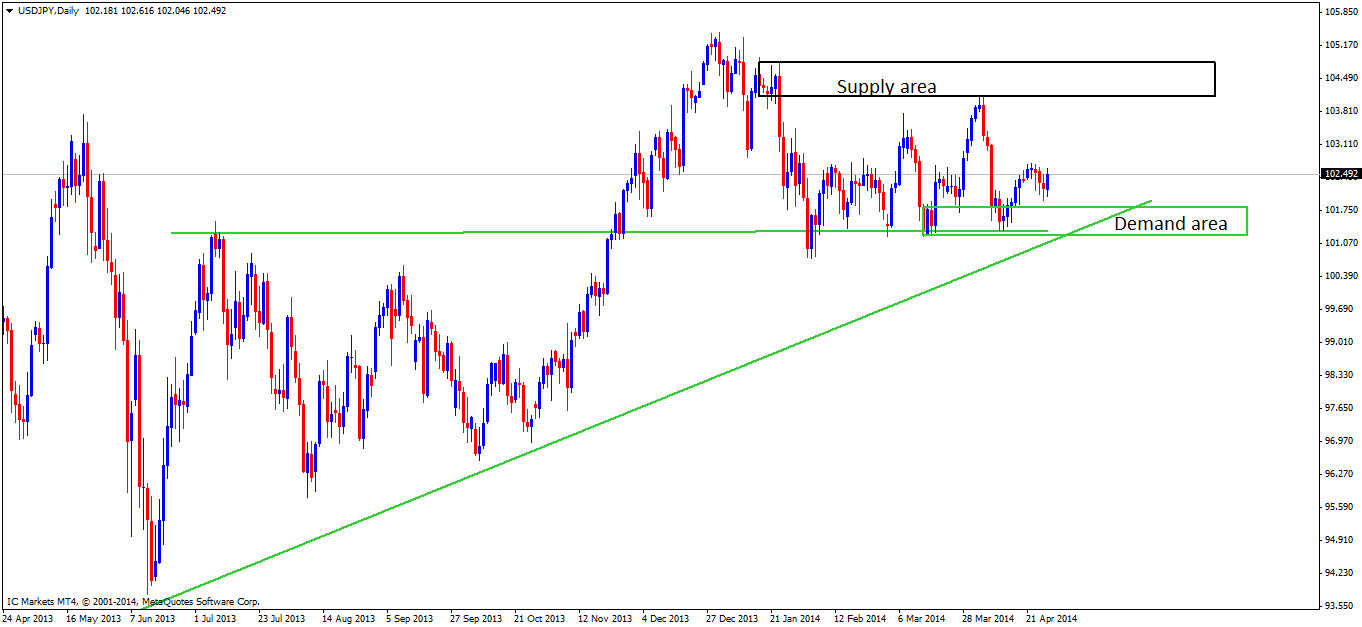 4hr TF:
The demand area at 101.847 – 102-026 mentioned in Monday's analysis was confirmed beautifully. The approach to demand was a common tell-tale sign big money was at work consuming sell orders as price was dropping, clearing the way for the rally north. As a result price moved relatively freely though previous price action.
Price is nearing immediate resistance at previous weekly highs (102.725) so be aware that selling pressure could come into the market very soon pushing price back down to the demand area for a possible second reaction.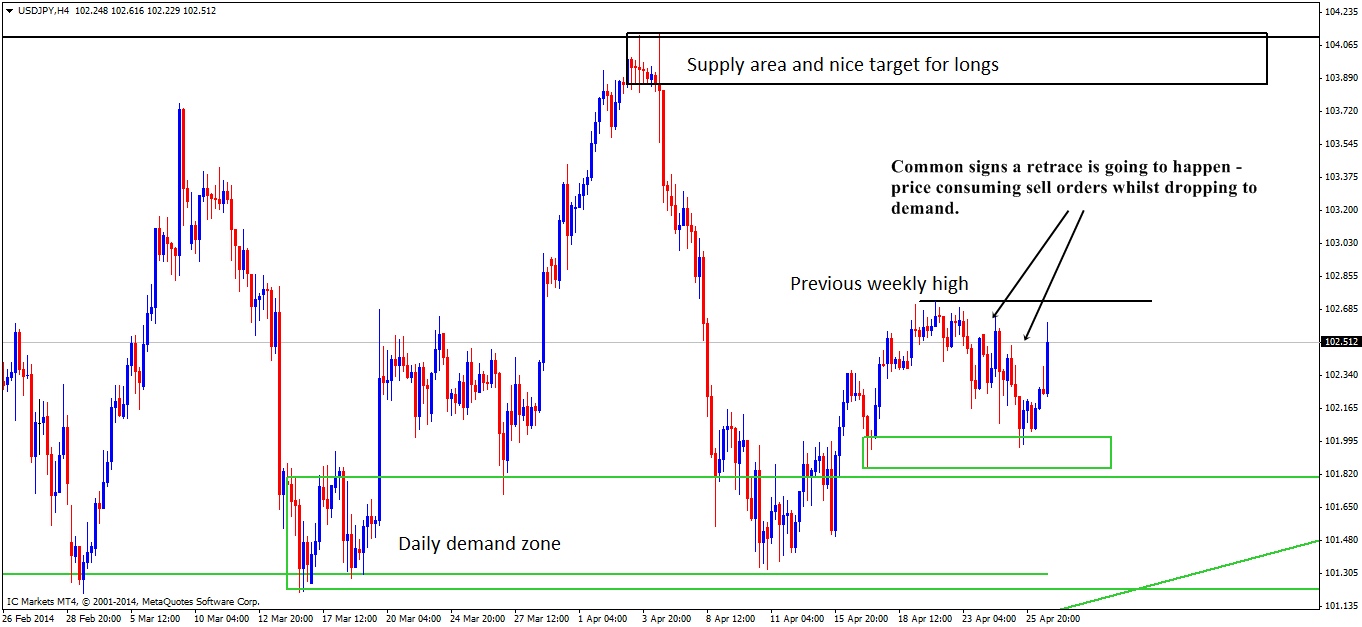 Areas to watch for buy orders: 102.026
Areas to watch for sell orders: 102.725
Most likely scenario: Selling pressure may come into the market as traders begin to take profit on their gains for the day. This pressure may push price back down to demand where we may see a second reaction.