EUR/USD:
The weekly timeframe shows there was little movement over the previous 2 week's trading. Price has hit a major supply area at 1.42445 – 1.38589 and weakness is seen on approach with a rising wedge formation. Demand area (1) (1.34857 – 1.36909) and (2) (1.32929 – 1.34919), are areas where some buying pressure may have been removed. Demand area (3) at 1.30876 – 1.32431 remains untouched and may contain buy orders; if price reacts bearish at the major supply area, this would be the likely target to drop to.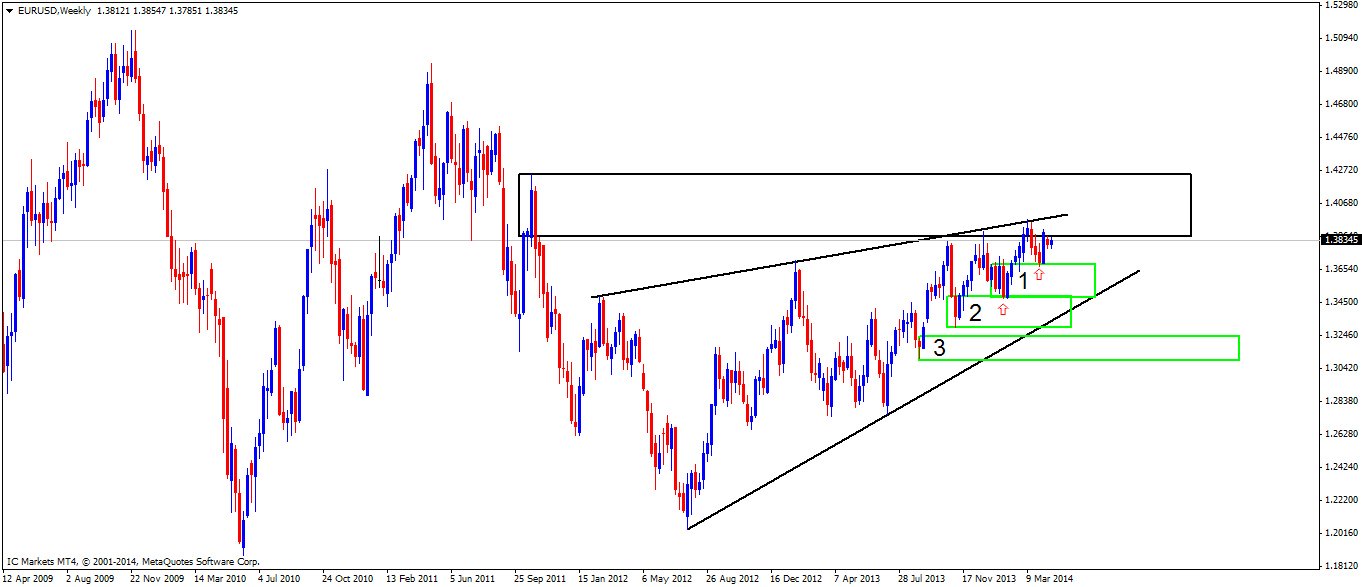 The Daily timeframe shows resistance ahead if price decides to go north:
Previous 52-week high at 1.38934.
Previous monthly high at 1.39669.
Big figure number: 1.40000.
If price heads south, support at 1.37974 would need to be broken. We then may see a drop to the next demand area at 1.37190 – 1.36705, which is a beautiful S/R flip zone if price is seen heading south.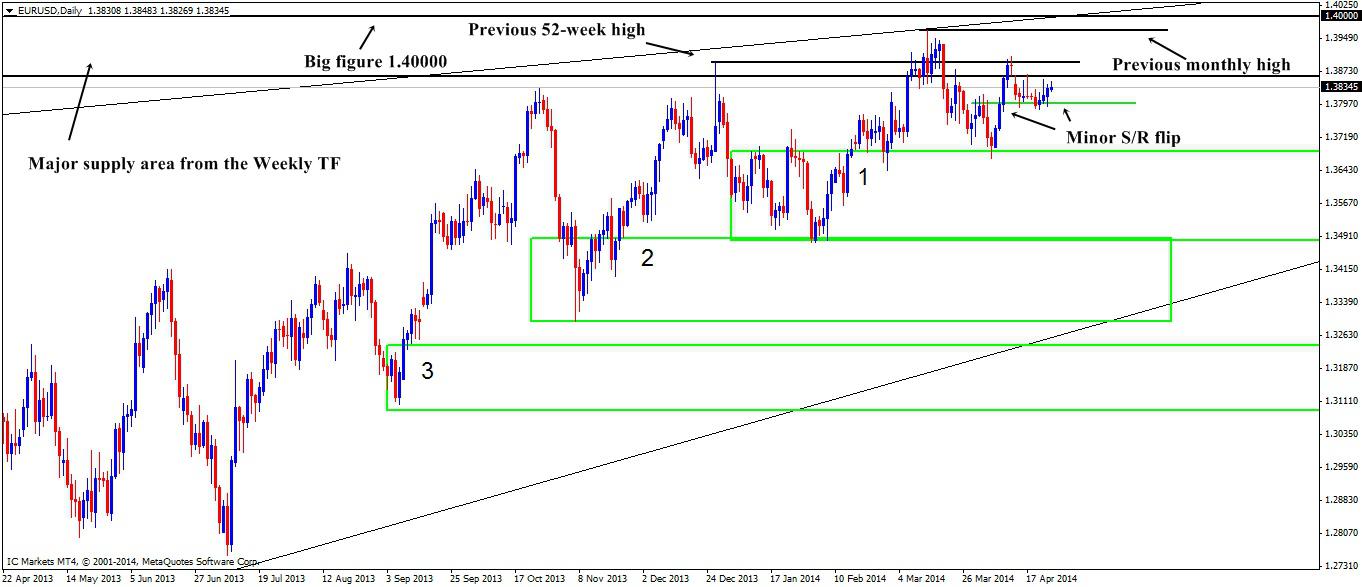 If we do see a break of the previous highs and big figure number 1.40000, this could trigger further bullish activity until we reach a very obvious selling zone at 1.42443 – 1.41146 as shown on the chart below. This would be a beautiful area to fake out price into for a big selloff. How many traders would be buying on the break of these important highs and the big figure? An unimaginable amount, this is perfect for professionals to begin selling into this buying pressure at this supply area to drop price.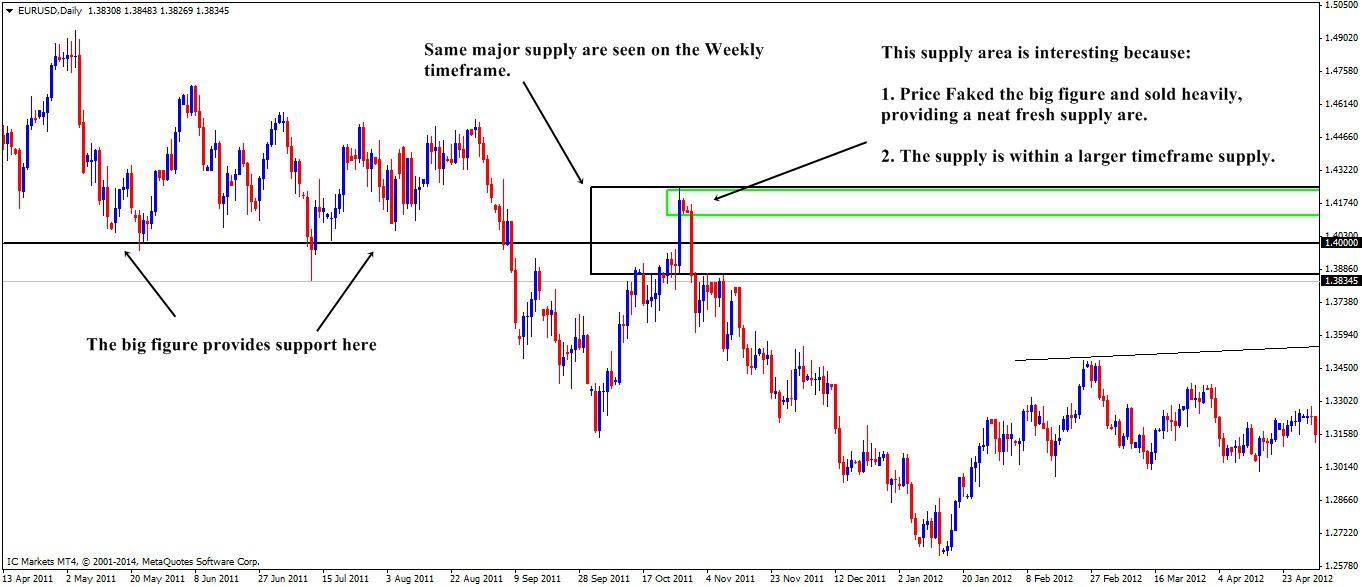 A look at the 4hr chart, to see what may happen today. Monday, being a notoriously slow day in the markets, there may be no break seen of the consolidation (1.37894 – 1.38500). If, however a break north is seen, price may well be faking out to left-over supply near the previous yearly highs, which seen on this timeframe is a neat S/R flip area. If a break south is seen, price could be dropping to a demand area at 1.37369 – 1.37493, but do not expect too much as there's no high-impacting news either.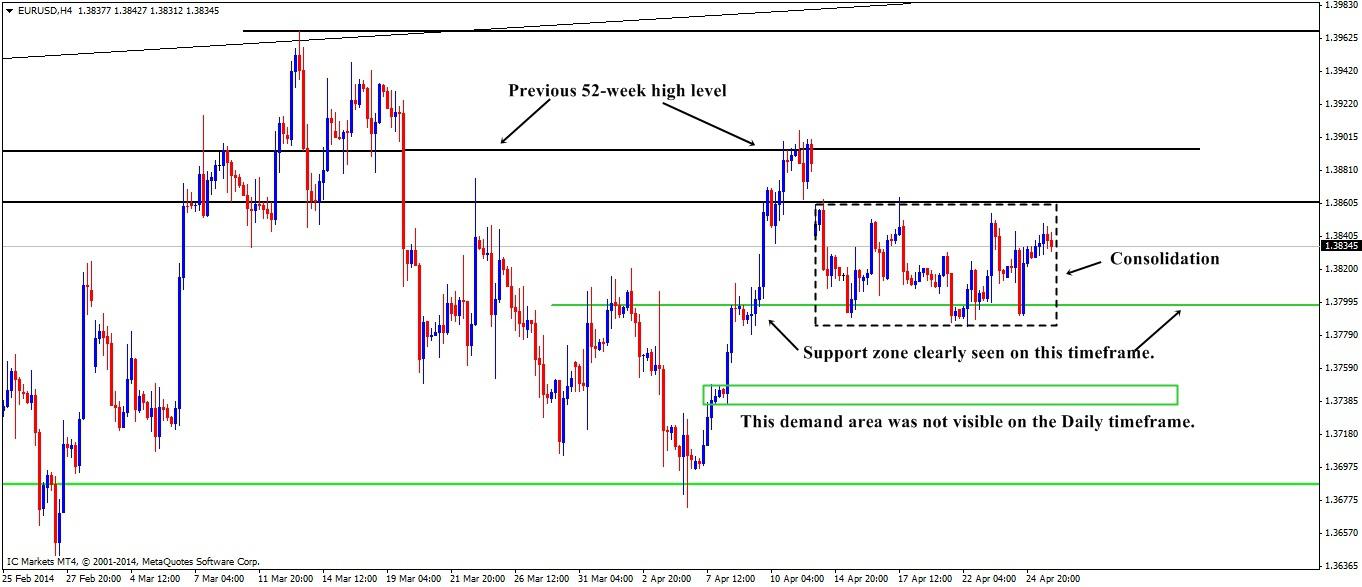 Areas to watch for buy orders: 1.37493, 1.37190
Areas to watch for sell orders: 1.41146, 1.38934
Most likely scenario: Price may bounce play the consolidation during today's sessions, if a break is seen watch for the levels above for buyers/sellers to come into the market.
 GBP/USD:
The weekly timeframe shows a long-term consolidation (1.67922 – 1.42334) has been established. An important supply area at 1.76378 – 1.67925 has managed to keep prices below for a considerable amount of time. Within the consolidation area, there's an S/R flip level at 1.64651 and has kept prices up for the last few weeks. Looking closely at the candle action, take note of the last 10 weeks; notice how the candles have closed above previous candle bodies emphasizing bullish pressure.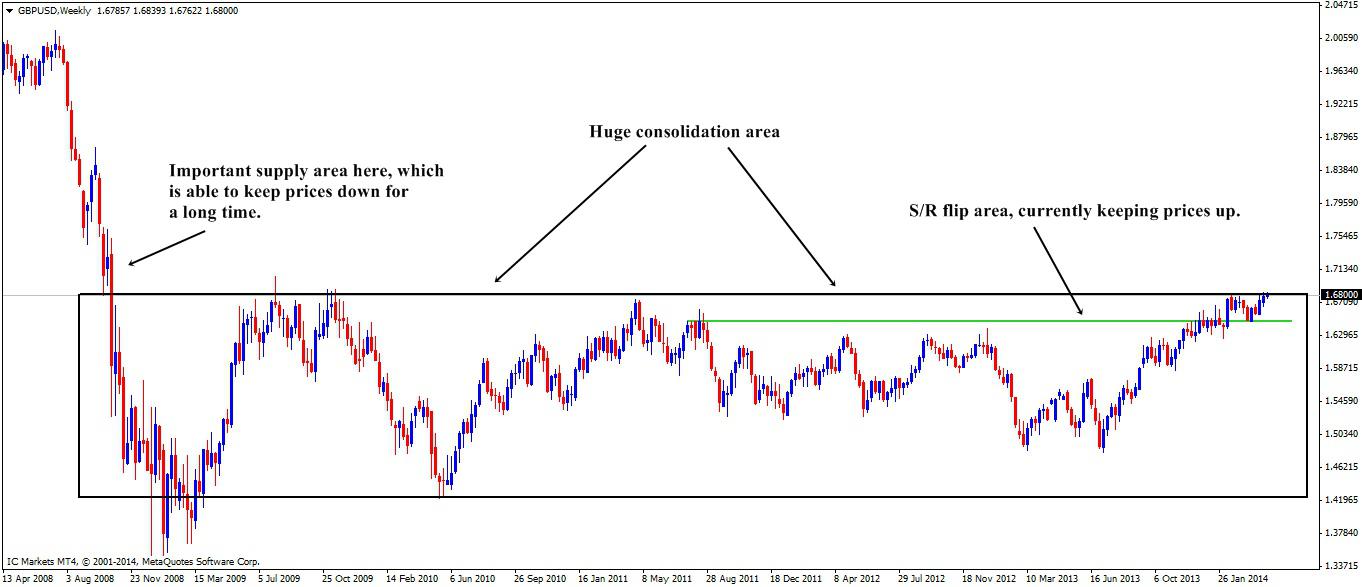 The Daily timeframe price action is currently consolidating, just as the EUR is. The high of February at 1.68824 seems to have been cleared of sellers, as price punched through this level with not much selling pressure seen. If price decides to go south, there's a minor S/R flip level at 1.66630 with trendline confluence, which could be enough to hold bullish momentum. If not there's a fresh demand area at 1.62543 – 1.63528 which is also the origin of the rally up.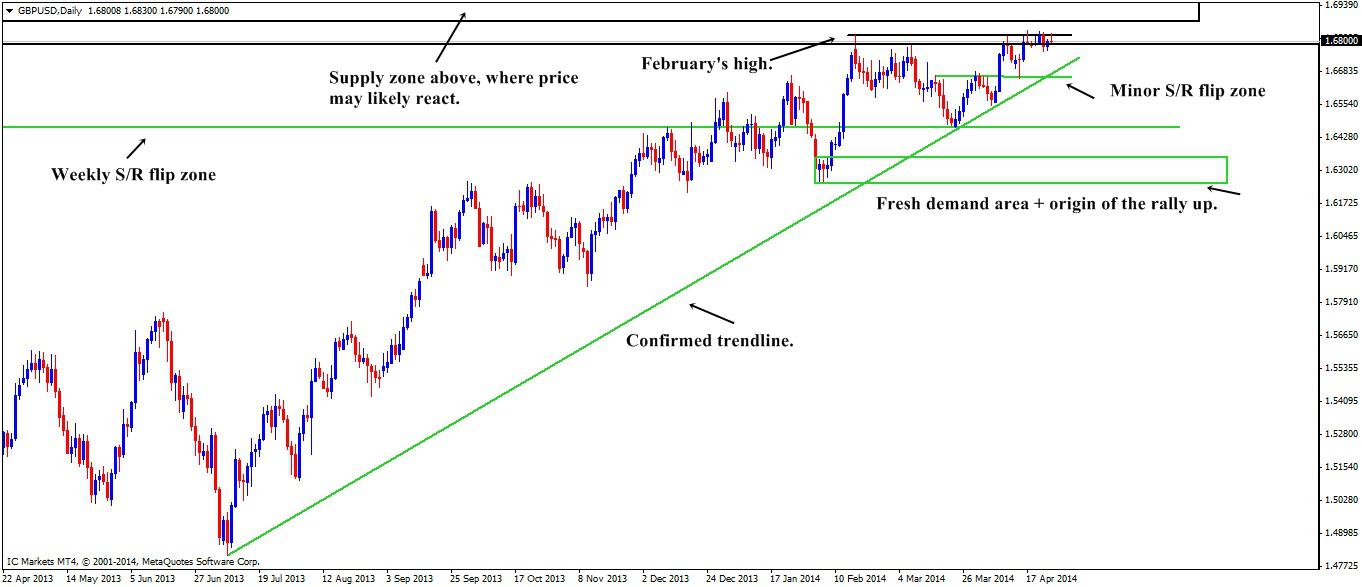 Supposing that price decides to go north, price will likely use this supply zone at 1.70372 – 1.68747 seen on both charts, above and below.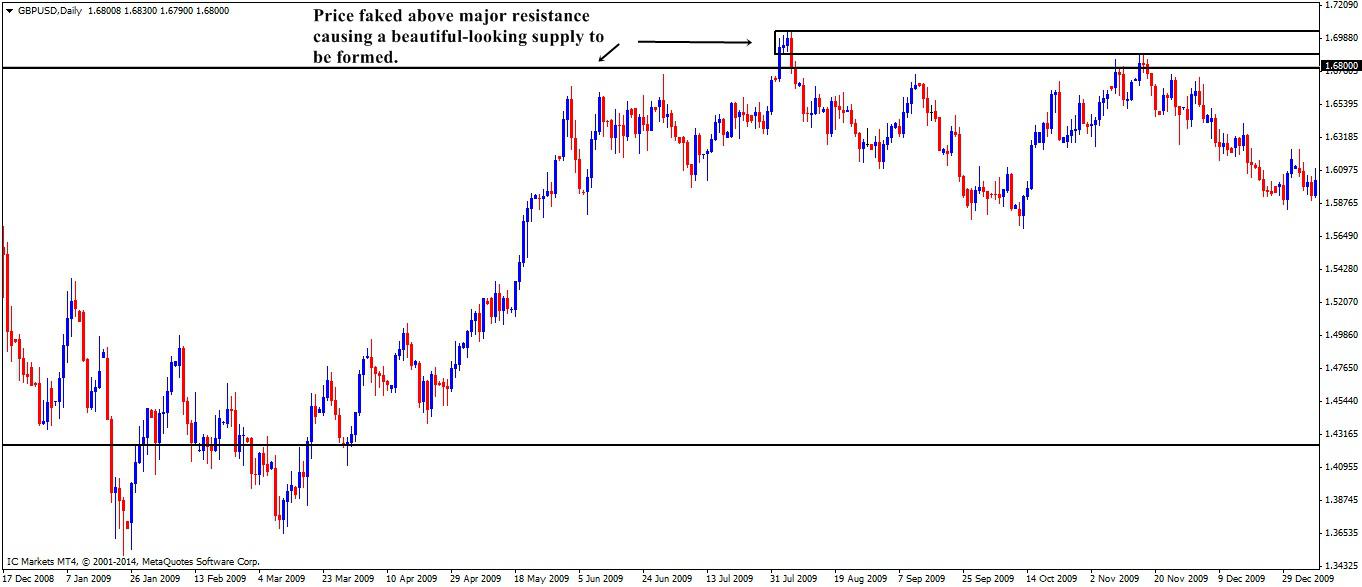 On the 4hr timeframe, consolidation is seen clearly at 1.67739 – 1.68321, this is very similar to current EUR price action. A break above may just be a fake out into Daily supply where sellers may be lurking.
A break below could force prices to the next demand area which is the Daily S/R flip level with trendline confluence. February's high has been confirmed as a strong resistance and level to watch.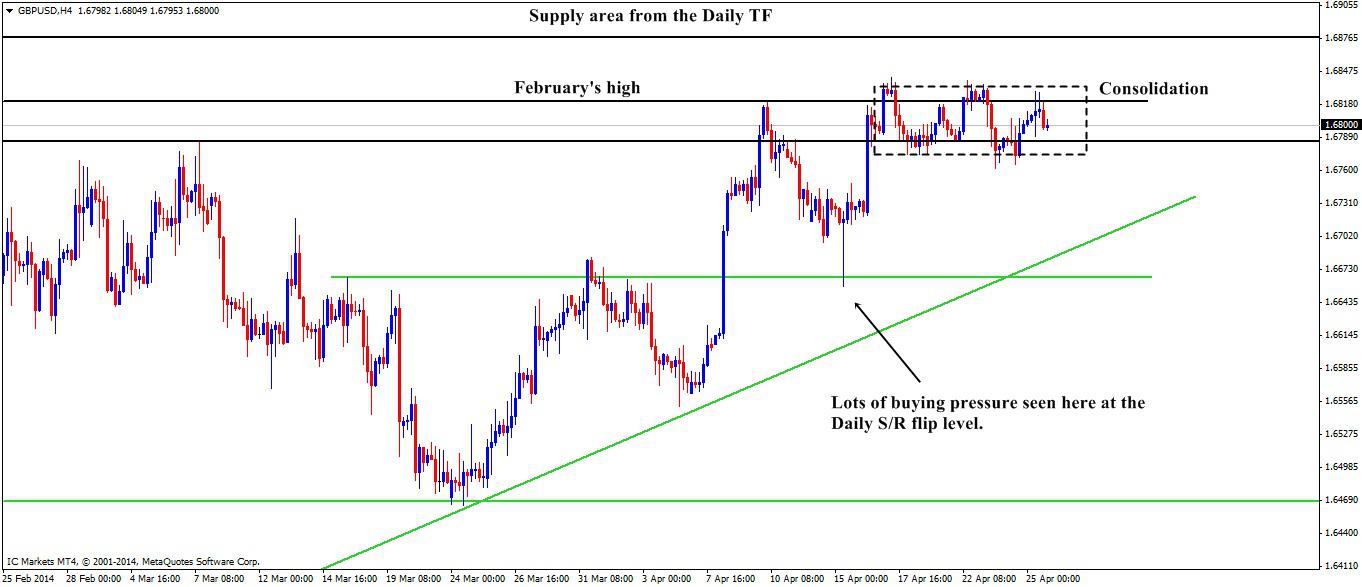 Areas to watch for buy orders: 1.66630
Areas to watch for sell orders: 1.68824, 1.68747
Most likely scenario: Price is likely to break out north, and attack the Daily supply area, as this consolidation may be the professionals accumulating positions for the rally up.
 AUD/USD:
The Weekly timeframe shows price is currently seeing weakness at around the 0.93718 S/R flip area. A Support level marked green at 0.88824 has been cleared of all buyers, so price is free to drop to the origin at 0.82017.
Even though we're currently seeing weakness, buyers may push up to supply at 0.97399 – 0.95684, before we see any type of big bearish move.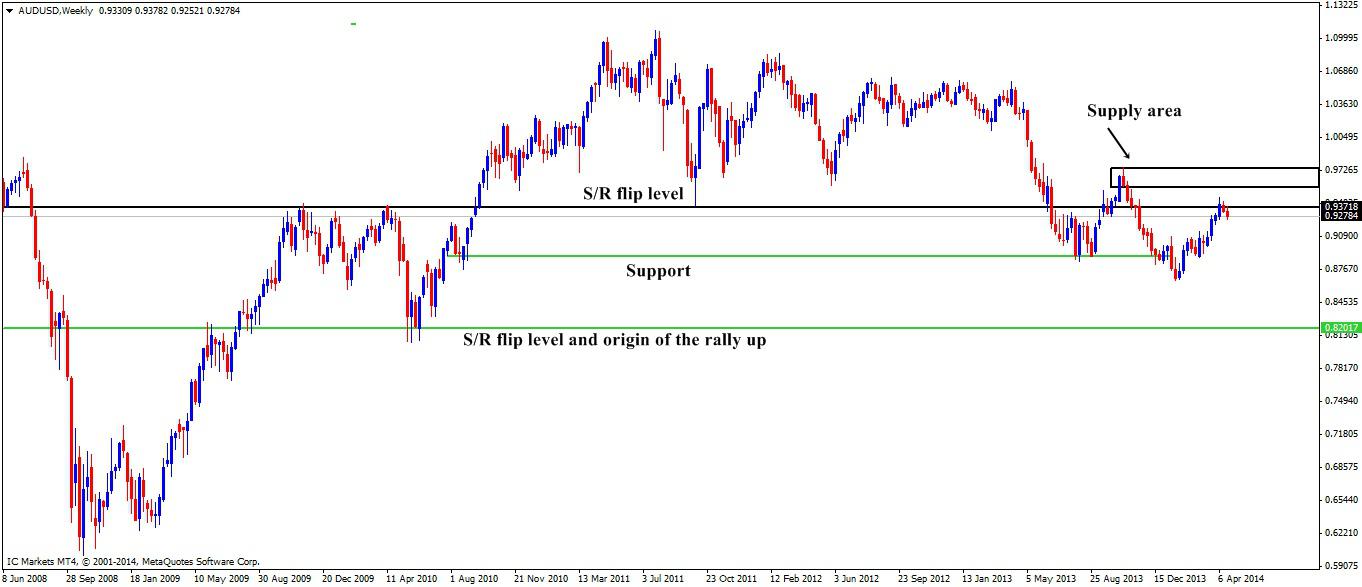 The Daily chart has a lot more detail. There are 2 supply areas, the lowest at 0.93777 – 0.94466 has been broken clearing sellers out, leaving the top supply at 0.95419 – 0.94893 area fresh where sellers may be waiting.
Price is currently in demand at 0.92037 – 0.92825, if price were to react bearishly here, the next demand is an S/R flip area at 0.91446 which may have enough buying pressure to push prices up to the top supply areas for the best prices for a further drop down.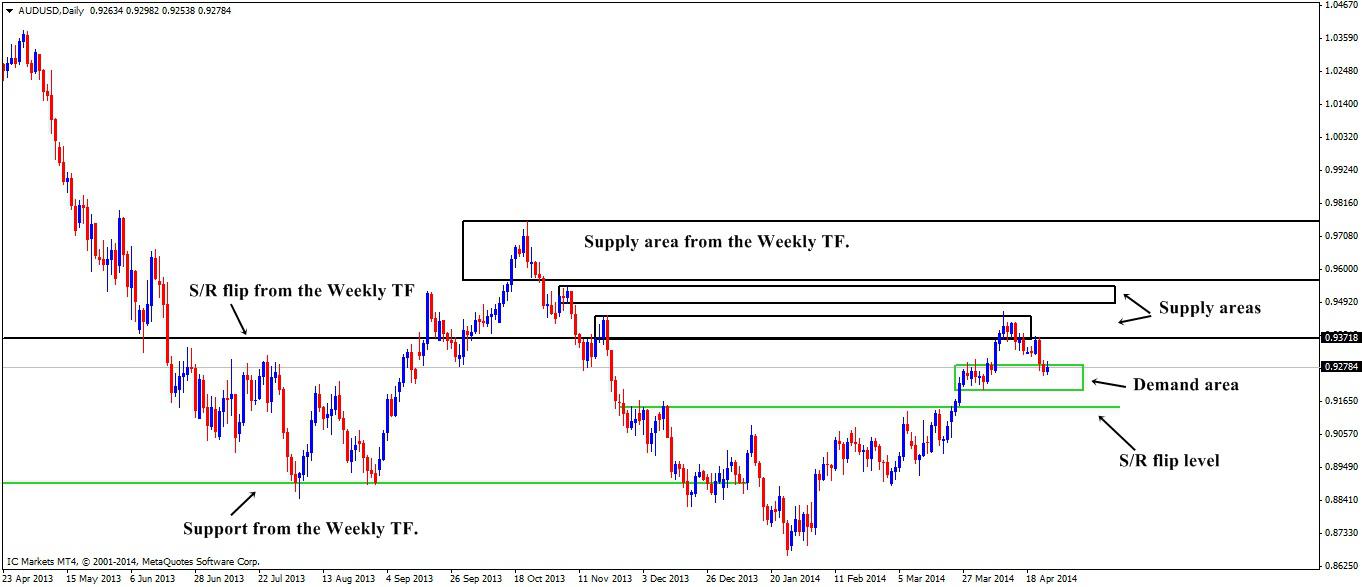 The 4hr chart is showing price is caught between near-term supply (0.93802 – 0.93597) and demand (0.92029 – 0.92299). This could be a great opportunity for range traders to play the limits here, otherwise, wait for a break either way.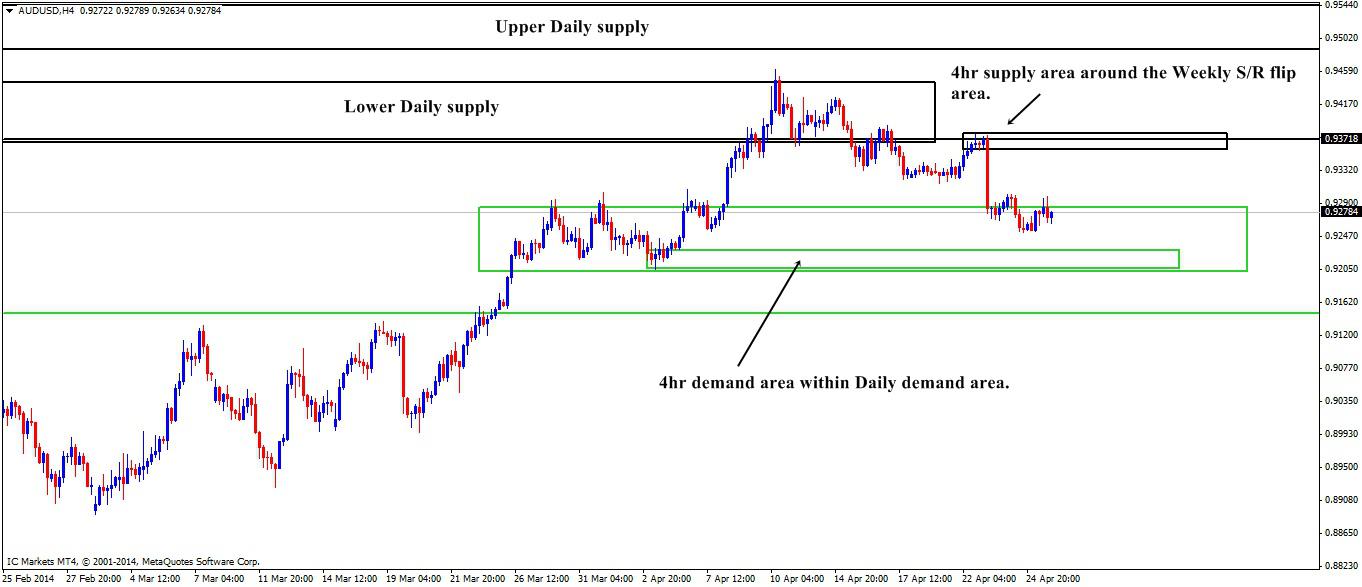 Areas to watch for buy orders: 0.92029
Areas to watch for sell orders: 0.93802
Most likely scenario: Price is likely to consolidate within the limits of the range today due to low-impact news announcements.
 USD/JPY:
We can see from the Weekly timeframe below, price has been rallying for nearly 2 years. Price has shown no signs of slowing down yet either. There's a stunning supply area at 110.607 – 108.204 and makes an excellent target for long-term traders who are currently long. The small S/R flip level with trendline confluence at 101.328 is doing a fantastic job helping the buyers keep control.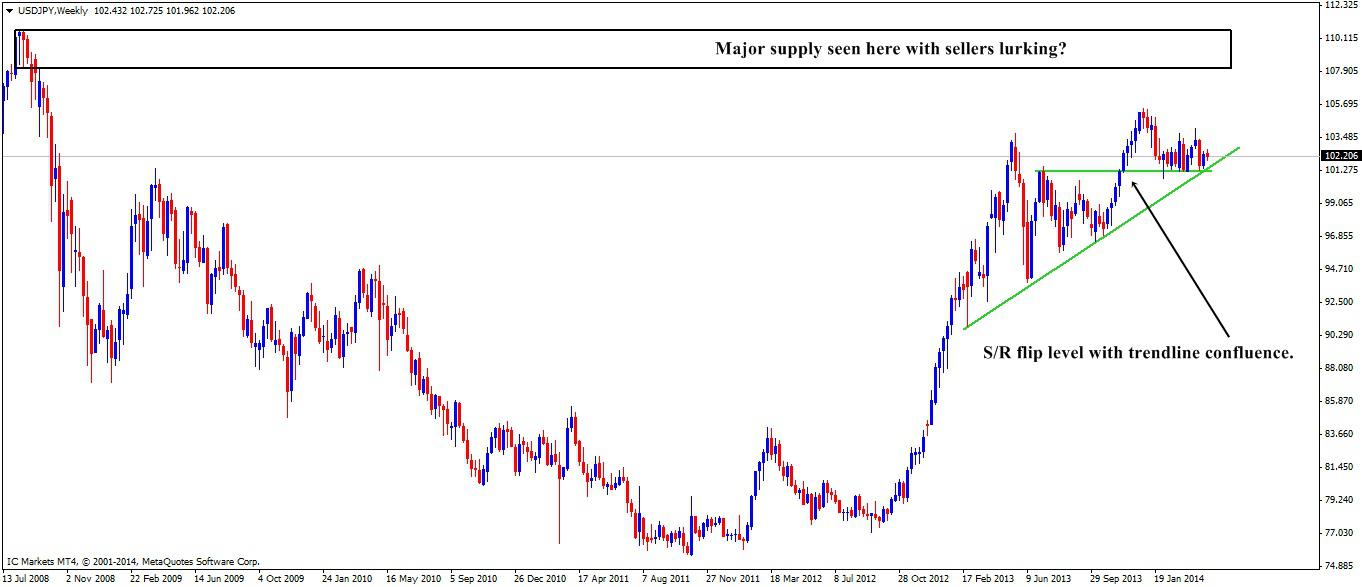 The Daily timeframe shows slightly similar characteristics to the AUD/USD pair here. Price is currently in a consolidation and is a great opportunity for range traders to play the limits. Supply is seen at 104.831 – 104.121 and demand is seen at 101.236 – 101.769. Traders wishing to trade with the trend may be best waiting for the range to break and then to look for a confirmed retest.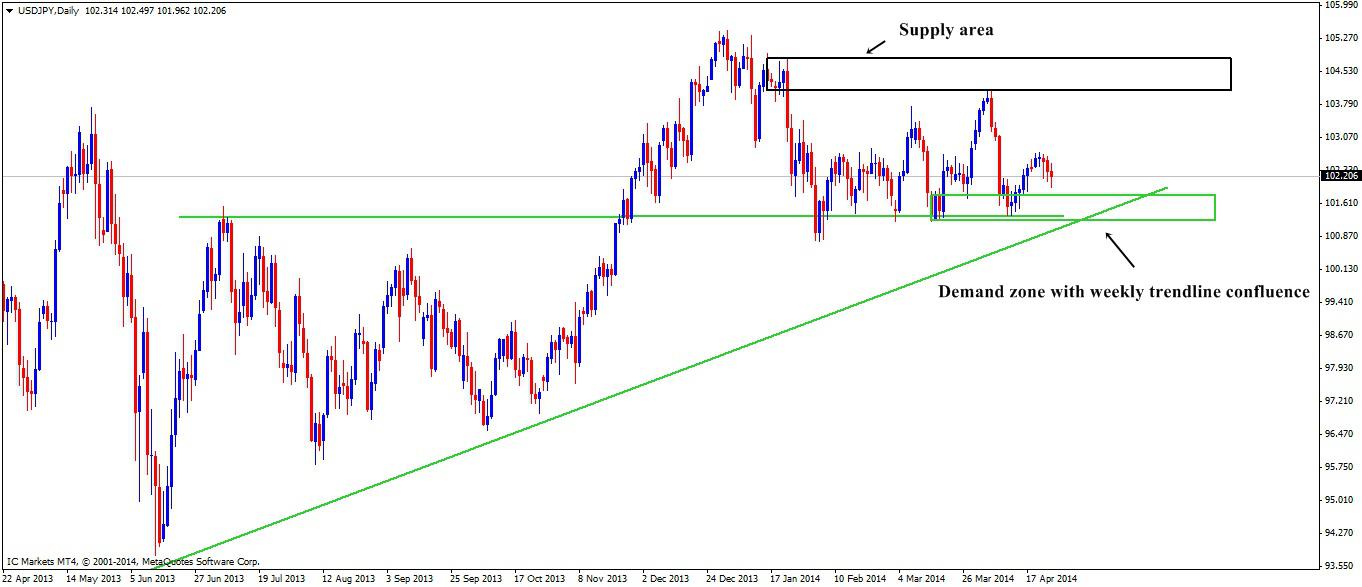 The 4hr timeframe shows near-term supply at 104.135 – 103.872, and demand at 101.847 – 102.026 within the higher timeframe consolidation. On the chart below we see price approaching demand in a compressed fashion. This type of price action may be professionals spiking price up consuming supply, whilst pushing price down, so this leaves the possibility of a nice rally with little selling pressure to stop it from moving up.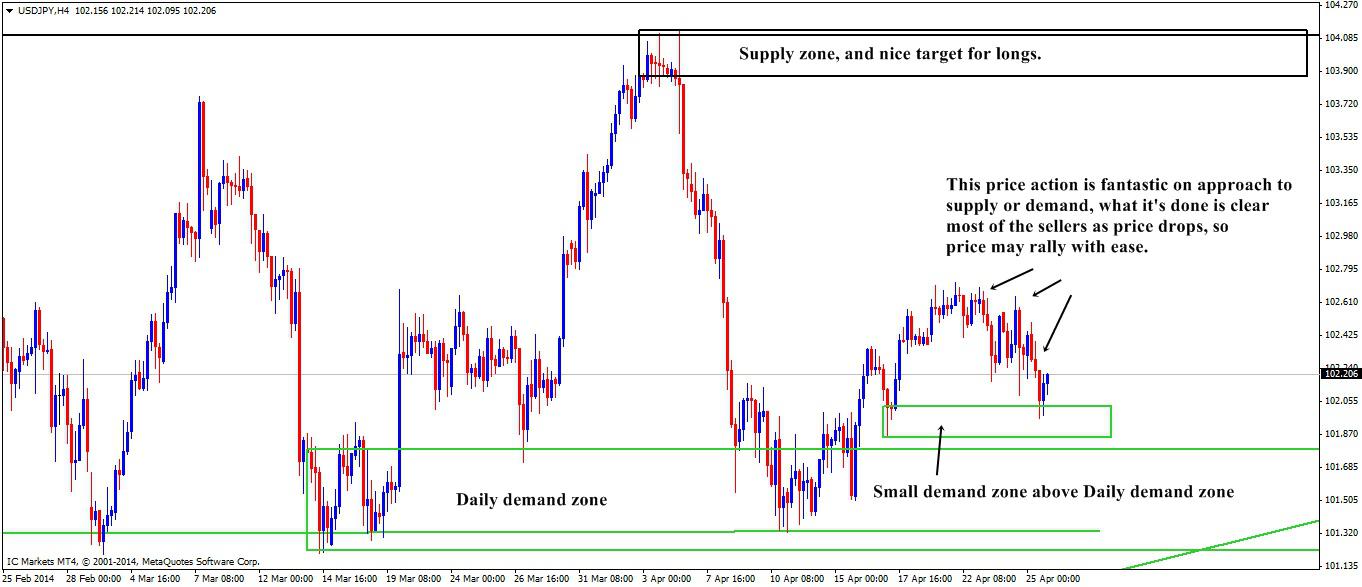 Areas to watch for buy orders: 102.026
Areas to watch for sell orders: 103.872
Most likely scenario: Price may drop slightly back to demand to pick up any remaining buyers when London opens, then continue to rally though all this compressed price action.