EUR/USD
Yesterday the pair climbed, responding to a better than estimated German Ifo survey and then dropped on the back of Mario Draghi's comments about "using both unconventional and conventional instruments to deal effectively with the risks of a too-prolonged period of low inflation". Rising turmoil in Ukraine brought the pair back up later in the day.
Technical Overview
For a relatively long time the pair has been confined in a narrow range and couldn't break out of the horizontal channel formed between 1.3850 and 1.3790. Until a clear move outside this channel occurs, price action will be ranging and choppy and our bias is neutral. Lately price doesn't seem to pay much interest to the level of 1.3830 so a break of this level is not so important anymore; the 200-period Exponential Moving Average is moving flat, confirming the ranging state of the market.
Fundamental Overview
The last day of the week is calm in terms of news releases as far as the Euro and the U.S. Dollar are concerned so the pair will be mostly influenced by the technical aspect and by any unscheduled news.
GBP/USD
The pair had a mixed trading session, with some strength exhibited by the U.S. Dollar when the Durable Goods Orders showed a value that surpassed estimates. However, the bears had a short lived victory as the Pound quickly rebounded.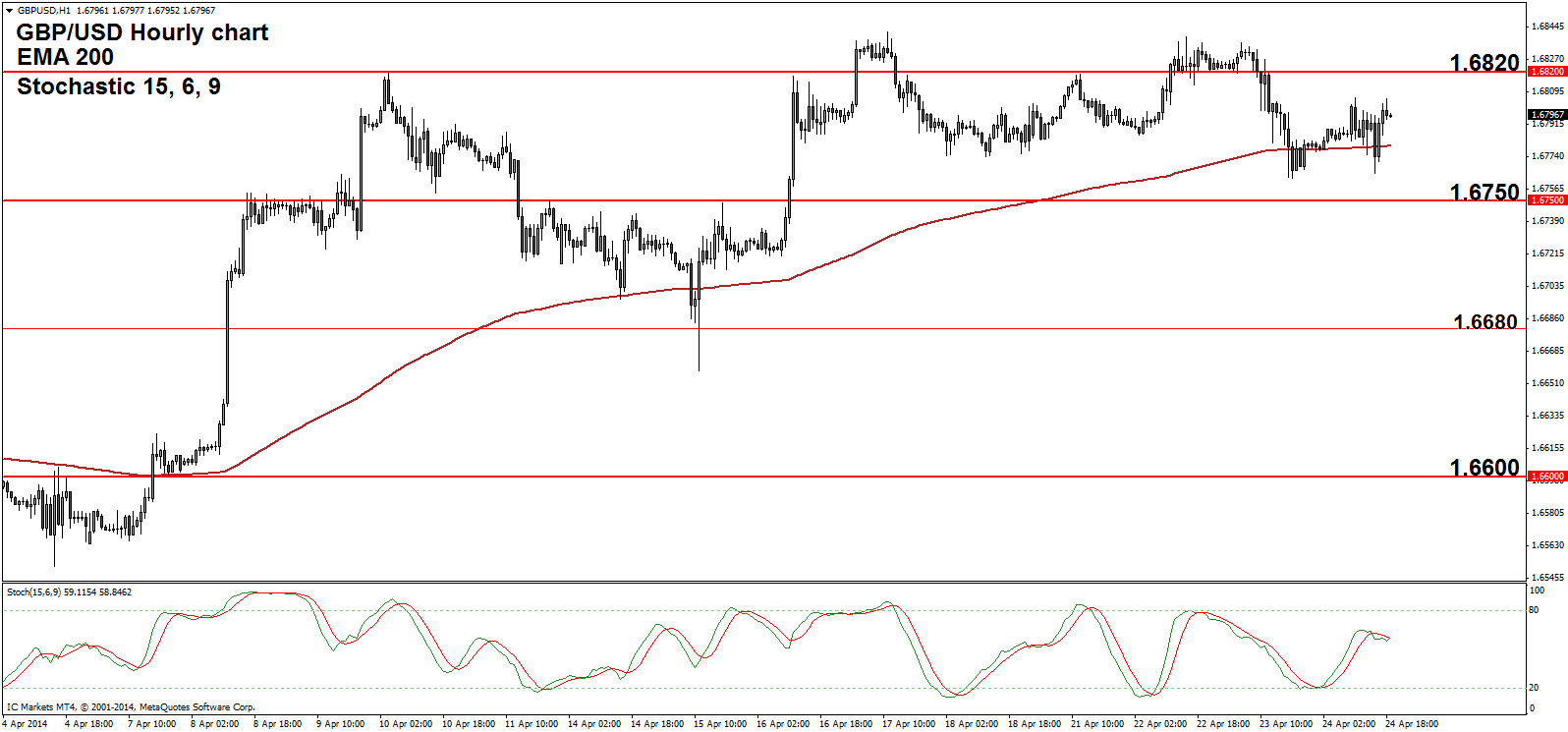 Technical Overview
We maintain our moderately bearish bias and anticipate a move lower for a touch or even break of 1.6750 support. Yesterday the pair traded in a 40 pip range, certainly not enough for proper technical prediction and no major clues were uncovered. Resistance still sits at 1.6820 but today's fundamental side of the market will carry extra weight.
Fundamental Overview
An important indicator will affect the Pound today: United Kingdom's Retail Sales. The main part of consumer spending is made on a retail level; since consumer spending represents the majority of overall economic activity, the Retail Sales are considered a high-impact indicator and a higher value is beneficial for the Pound. The release is scheduled at 8:30 am GMT and the expected value is -0.4% while the previous was 1.7%.
We hope your trading was successful this week and we wish you a great weekend.