EUR/USD
As anticipated, the ECB refrained yesterday from making any changes to the interest rate, but Mario Draghi expressed concern regarding low inflation and also indicated that "unconventional instruments" may be used to counter deflation within the Euro Zone.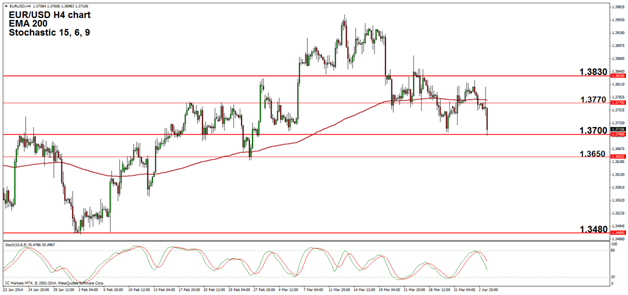 Technical Overview
Trading at the beginning of the ECB press conference was made difficult by the quick up and down movement but a direction was soon established and once 1.3770 was cleared, the road to 1.3700 was traveled smoothly. In light of recent developments (both fundamental and technical), our bias on the pair is bearish and we anticipate a move towards the next support which is located at 1.3650 but we don't expect price to move in a straight line until it gets there so bullish retracements will most likely occur. Keep in mind that any technical prediction can be overthrown by the U.S. Non Farm Payrolls.
Fundamental Overview
The focus shifts towards the U.S. today for the release of the Non Farm Payrolls scheduled at 12:30 pm GMT. The NFP is the most important job related indicator and almost always moves the market strongly upon release; a higher number is considered bullish for the US Dollar as employment is correlated with consumer spending (an employed person is likely to spend more than an unemployed one). Today's estimated number is 199K, an increase from the previous 175K.
GBP/USD
United Kingdom's Services PMI posted a weak reading of only 57.6 compared to the anticipated 58.2, a fact which triggered a considerable drop and a break of 1.6600 support.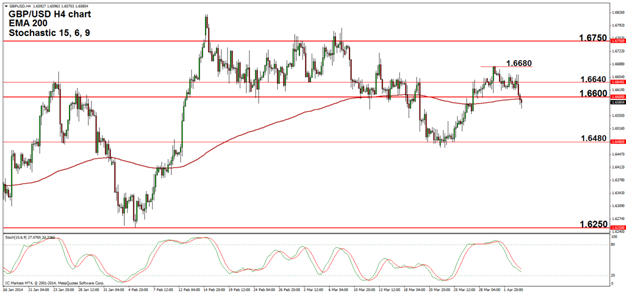 Technical Overview
After a period of sideways movement, the pair chose a direction; now price is trading below the four hour 200 Exponential Moving Average and below 1.6600, without being oversold. This makes us believe that 1.6480 is the next destination, but we don't anticipate the entire distance to be traveled today, unless the U.S. employment indicator posts a surprising figure.
Fundamental Overview
The United Kingdom didn't schedule any major news releases for today so price action will be mostly affected by the U.S. data and by the technical aspect of the market.
We hope your trading was successful this week and we wish you a great weekend.