EUR/USD
U.S. Employment data released yesterday by Automatic Data Processing Inc. showed that job creation increased during last month, a fact perceived by market participants as bullish for the greenback. Although the pair broke support on the back of US Dollar strength, it didn't do so in a decisive manner.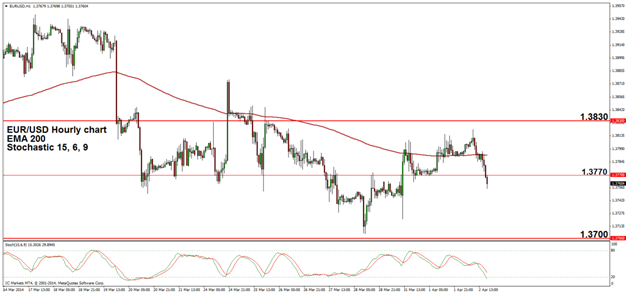 Technical Overview
Yesterday's bearish move occurred mostly due to a better than expected Employment report and the technical factors were somewhat secondary. If this positive US Dollar sentiment will be maintained throughout today's trading session, we will most likely see a clear break of 1.3770 followed by at least a touch of 1.3700. However, the fundamental aspect will once more overshadow the technical one as the ECB Interest Rate will be the day's headline.
Fundamental Overview
The European Central Bank will announce today at 11:45 am GMT their Interest Rate decision, followed at 12:30 pm GMT by the ECB Press Conference. The rate is not expected to change from the current 0.25% and traders are usually more interested in Mario Draghi's speech at the Press Conference. Often the rate is already priced in the market, so Draghi's attitude is very important for future rate decisions. His answers to journalists' questions during the Press Conference will offer hints about future monetary policy and usually create strong movement so we recommend caution if trading at the time.
GBP/USD
For yet another day the pair moved above and below the level of 1.6640, trading in a narrow range of less than 50 pips for the most part of the day. United Kingdom's Manufacturing PMI posted disappointing results, but the Pound wasn't affected substantially.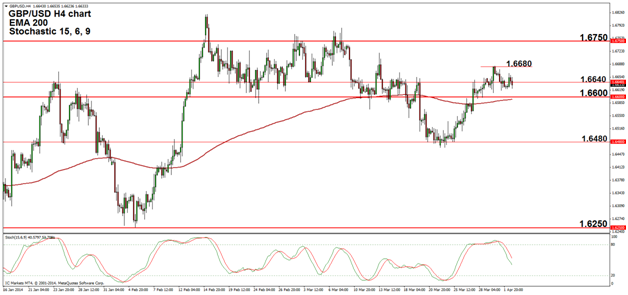 Technical Overview
Yesterday's movement doesn't offer a lot of hints about future direction and mixed signs are present: price is trading above the 200 Exponential Moving Average but the Stochastic is crossed downwards and its lines are spread apart. A clear move in one direction is expected and this move will probably determine more traders to join it, generating a breakout; the most important levels to watch are 1.6640, 1.6600 as support and 1.6680 as minor resistance.
Fundamental Overview
The last release in this week's United Kingdom PMI series is the Services PMI which is scheduled at 8:30 am GMT and expected to remain unchanged at 58.2. Better numbers are beneficial for the Pound and usually take the pair higher as the survey is used as a gauge of economic expansion or contraction, focused of course on the Services sector.