EUR/USD
Germany's Unemployment data released yesterday surpassed analysts' forecast and resulted in a stronger Euro. On the other hand, the US manufacturing data didn't do much for the pair's movement although the posted reading was slightly lower.
 Technical Overview
Yesterday's trading session was rather slow but we saw that price couldn't break 1.3770 to the down side although it stalled there for several hours. This fact favors the bulls and increases the probabilities of a touch of 1.3830 resistance but the pair remains confined in a narrow range which makes technical analysis difficult and less accurate. The main levels to watch are 1.3770 as support and 1.3830 as resistance; a clear breakout will most likely trigger an extended move in that direction.
Fundamental Overview
The day's main event is the release of the Non Farm Employment Change numbers released by Automatic Data Processing Inc. at 12:15 pm GMT. Today's indicator is used by traders to anticipate the value of the Government issued report which comes out two days later and which has a higher impact on the market. The anticipated value for the ADP Non Farm Employment is 192K while the previous was 139K. Higher levels of employment are beneficial for the greenback as they suggest an expanding economy and a potential increase in consumer spending.
GBP/USD
The British Manufacturing data released yesterday was disappointing and weakened the Pound as a result but no special developments took place and price struggled to break 1.6640.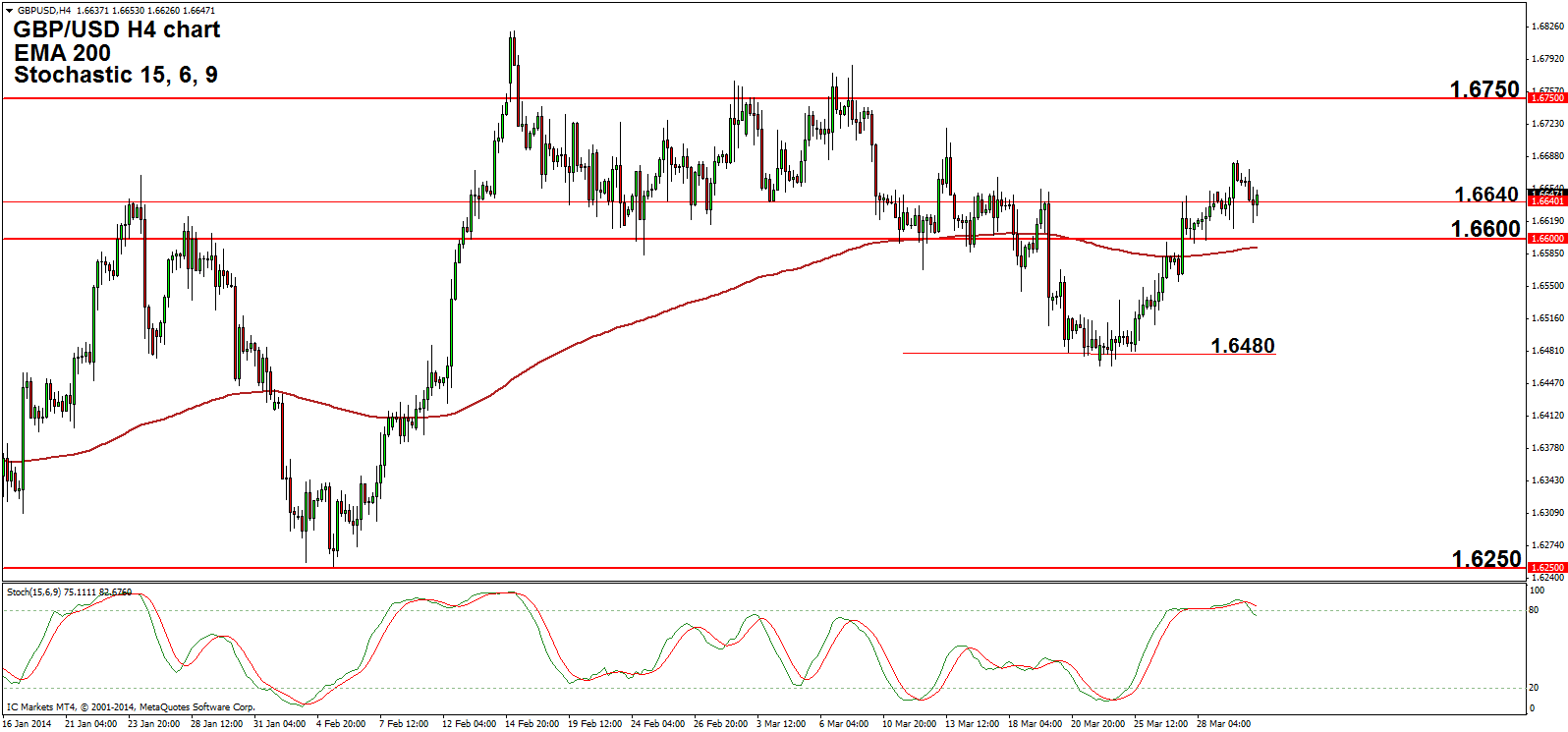 Technical Overview
The Stochastic oscillator remained for several days above its 80 level, indicating an overbought condition; yesterday's move south took the indicator out of overbought territory and triggered a bearish cross. This indicates that lower prices may follow but the latest momentum is bullish so a touch of 1.6600 would most likely generate a move higher. However, a break of this level may bring in additional sellers, extending the drop.
Fundamental Overview
At 8:30 am GMT the British Construction Purchasing Managers' Index is released. This is a survey based on the opinions of about 170 purchasing managers from the Construction sector and is generally regarded as a leading indicator of economic health. The managers are asked to rate business conditions and a better than estimated value is considered bullish for the Pound; today's forecast is a rise to 63.1 from the previous 62.6. The pair's movement will be also influenced by the U.S. data which comes out later in the day.