EUR/USD
Political tensions grew yesterday after Crimea decided to join Russia as a result of a referendum organized during the weekend. However, the vote is generally regarded as illegal, especially by the West. United States and the European Union froze assets and imposed travel bans on some Ukrainian and Russian officials, resulting in one of the most severe crises of the last decades.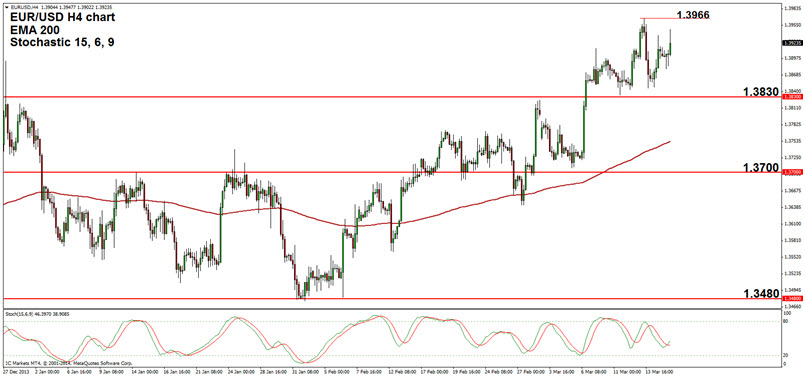 Technical Overview
Yesterday's price action was ranging during the first part of the day but the Euro rallied later and finished the day higher; trading was rather choppy and the year's high wasn't clearly threatened. The technical aspect is highly affected by the East-West crisis at the moment and surprise moves can be experienced at any time. The levels to watch are still 1.3966 as resistance and 1.3830 as support; keep an eye on 1.4000 which will most likely act as a psychological resistance if it's touched.
Fundamental Overview
Any developments coming from Crimea will probably have a strong impact on the market but other important events are scheduled: at 10:00 am GMT the German ZEW Economic Sentiment comes out, with an estimated value of 52.8 while the previous was 55.7. This is a survey which asks German investors and professional analysts to give their assessment on a 6-month outlook regarding the state of the economy and under normal circumstances, better values strengthen the Euro.
The American Consumer Price index will be released later in the day, at 12:30 pm GMT. A decrease is anticipated from the previous 1.6% to 1.2% and since the CPI is one of the most important measurements of inflation, higher than estimated readings tend to take the pair lower on the back of US Dollar strength.
GBP/USD
The pair spent another day in a narrow range, with choppy movement which made day-trading difficult. Although US data beat estimates, the Pound managed to climb slightly above 1.6640 resistance.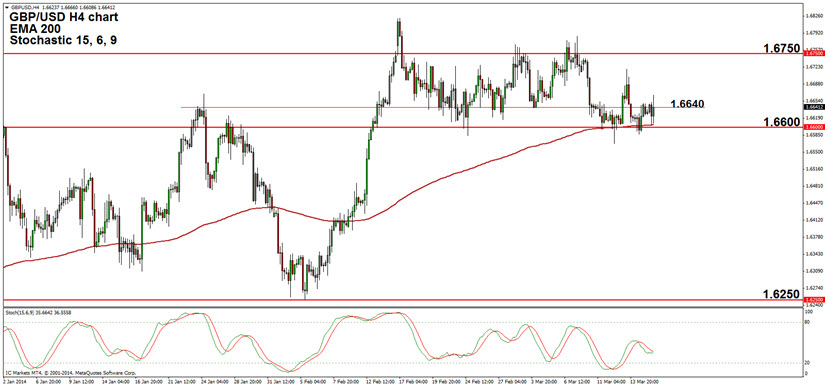 Technical Overview
Candles on a four hour chart show indecision and both buyers and sellers seem to lack the determination to take control of the pair. We anticipate this indecision to be over very soon and also believe that a strong move is next. However, the direction of this move will be determined by a combination of fundamental (Crimea situation) and technical factors (break of the confluence zone created by EMA 200 and 1.6600 support).
Fundamental Overview
Bank of England Governor Mark Carney is scheduled to speak today in London at the Annual Mais Lecture; although this speech is not anticipated to have a tremendous impact, if he touches subjects which directly concern the currency market, we will see strong reactions. The time of the event is 5:45 pm GMT and the pair will also be affected by the tensions in Crimea and by the US CPI.