EUR/USD
Euro Zone's Industrial Production surpassed analysts' prediction and posted a value of 2.1% while the forecast was 1.9%. The G7 held an emergency meeting via satellite to discuss the Ukraine crisis which is likely to have an impact on our pair if things escalate in the days to come.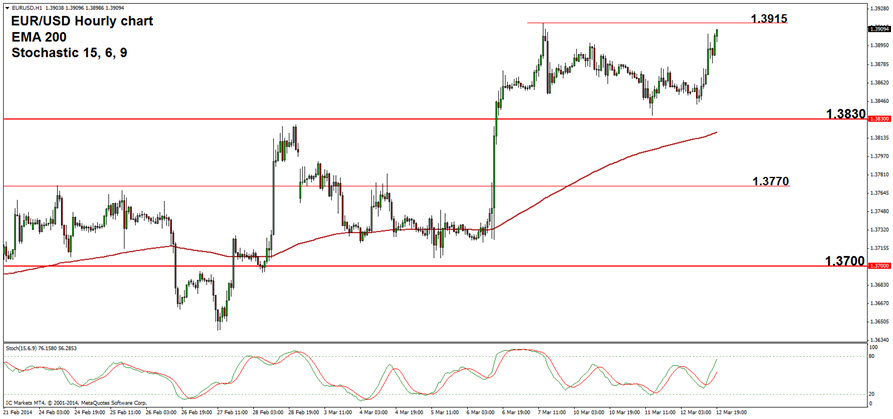 Technical Overview
The Euro bulls stepped in and took the pair close to the resistance located at 1.3915; a break and consequently a new high would indicate trend resumption and potentially higher prices after a retest from above of the broken level. A bounce lower off resistance would create a Double Top formation which is a strong bearish pattern that can initiate a bearish move, especially if the Stochastic will be in overbought territory when the double top forms; if this is the case, we consider 1.3830 to be the first target.
Fundamental Overview
The week's first important American economic indicator is released today: the Retail Sales. Sales made at a retail level represent about one third of the entire consumer spending which in turn represents about two thirds of the entire US economic activity and that's why the indicator is regarded as a high impact one. The release is scheduled at 12:30 pm GMT and an increase is anticipated from the previous -0.4% to 0.2%; higher than estimated values are perceived as bullish for the greenback.
GBP/USD
The United Kingdom didn't release major data yesterday but the pair pierced the important support level located at 1.6600 in what appeared to be a clear break which almost immediately proved to be just a fake move.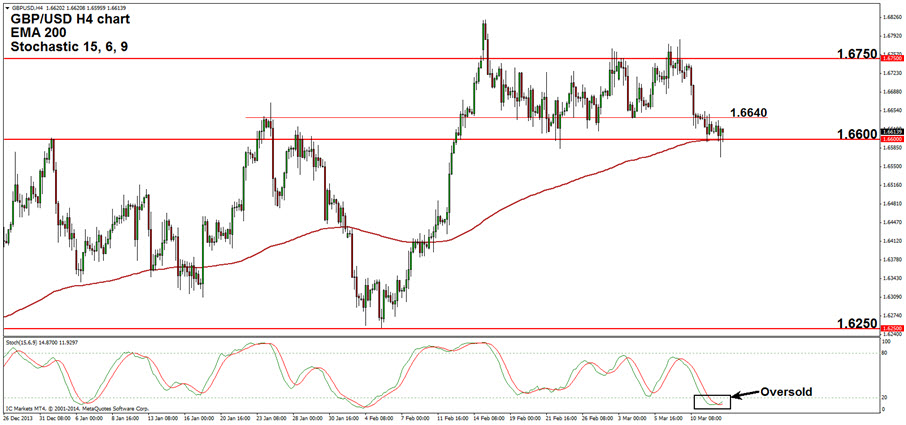 Technical Overview
The confluence zone created by the 200 Exponential Moving Average and 1.6600 horizontal support was too strong for the bears to break in one attempt. Price on a four hour chart is showing rejection (long wicks in the lower part of the candles), the Stochastic is in oversold territory and the stage seems set for a bounce higher. However, today's US data is likely to overthrow any technical prediction so keep in mind that a break of support will probably trigger continued moves to the downside.
Fundamental Overview
The United Kingdom didn't schedule major data releases for the day so the main focus will be on the US Retail Sales which will most likely have a huge impact on the pair.