EUR/USD
The German Trade balance released yesterday came out with a worse than estimated value, facilitating a bearish move and a near miss of 1.3830 level. However, during the second part of yesterday, the bulls made their presence known and took the pair higher, close to the day's opening price.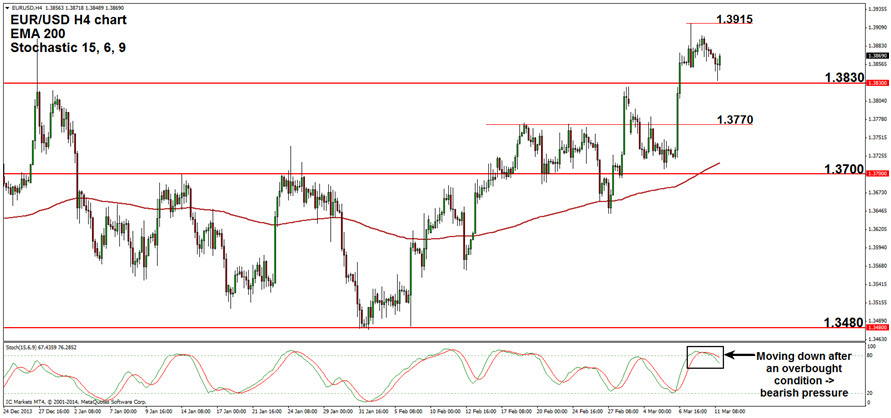 Technical Overview
On a four hour chart the pair is showing rejection off 1.3830 which can now be considered support as price came very close to it and immediately changed direction. The medium term trend is still bullish but if the bounce we experienced yesterday doesn't result in a break of 1.3915 (or at least a strong move up), we are likely to see a reversal; an immediate break of 1.3830 would imply the same thing. Note that the Stochastic oscillator is turning south after a visit above the 80 level, a thing which indicates that the bearish move still has a long way to go. The main levels to watch today remain 1.3830 as support and 1.3915 as resistance.
Fundamental Overview
We have a pretty slow day ahead in terms of economic data releases, with the most important being the Euro Zone Industrial Production, an indicator which tracks changes in the performance of the industrial sector. Analysts estimate a hefty increase from the previous 0.5% to 1.9%, a fact which would strengthen the Euro and take the pair higher. The release is scheduled at 10:00 am GMT but usually has a moderate impact on the pair if no substantial changes are posted.
GBP/USD
Mark Carney's testimony regarding the Inflation Report did not bring the anticipated volatility but the pair continued to move lower for an encounter with the major support level located at 1.6600. This is also a confluence zone of critical importance for medium term movement.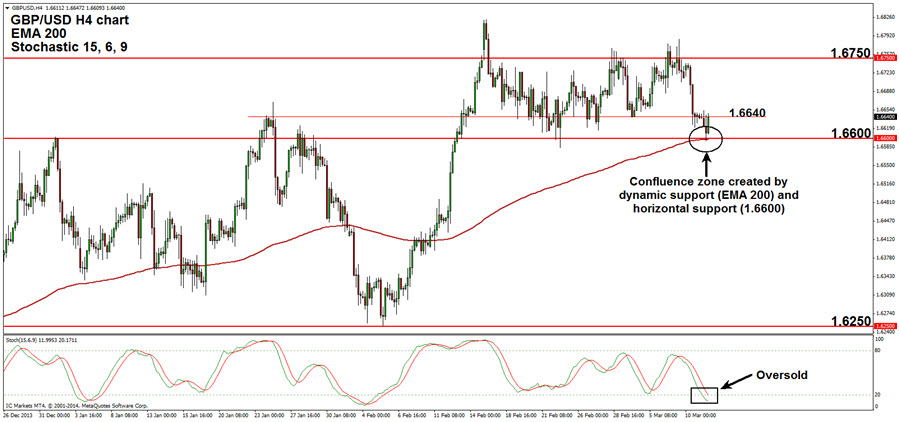 Technical Overview
For quite a long time the pair traded between 1.6750 resistance and 1.6600 support and this makes the current situation a very important one because a potential break of support would indicate the beginning of a medium term bearish trend. However, the Stochastic is indicating an oversold condition of the market and price reached a strong confluence zone represented by the 200 EMA and 1.6600 support. Price can move lower even if indicators show an oversold market but the combination of the moving average, support and Stochastic make us believe that moves higher are in order (or at least some sideways movement) before this major support will be broken. On the other hand, a clear break of 1.6600 despite all these factors would indicate that sellers are clearly shifting the balance of power in their favor.
Fundamental Overview
The United Kingdom didn't schedule any news releases for the day so the pair's movement will be mostly driven by the technical factors.